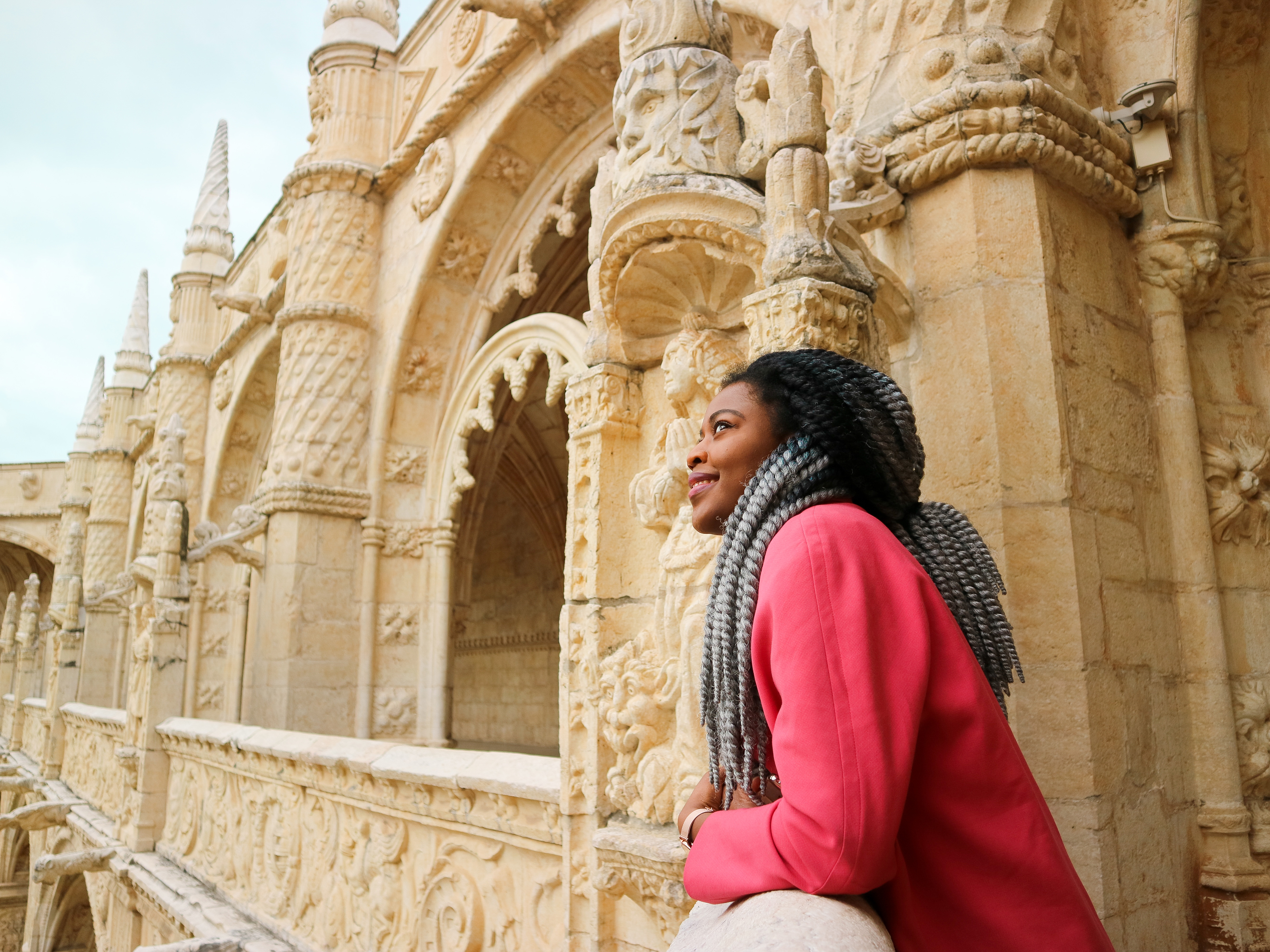 Natas, sangria, street art and stunning architecture. These are just a few reasons why anyone would fall in love with Lisbon.
I've been obsessed with Lisbon since I'd seen my fellow blogger, Maya's beautiful pictures and vlog (check out her blog).
So when I saw that Ryanair was doing deals, there was no hesitation at all and at the end of January/beginning of February, I finally got to cross Lisbon off my bucket list!
So, did Lisbon live up to my expectations? Hell to the yes!
Here's a little insight into my solo trip in Lisbon and a few tips to help you plan your own visit to this beautiful city.
Day one
My trip didn't get off to a good start, not only did I miss my coach to the airport, I also found myself stuck in the airport for hours due to flight delays. 😩
When I finally made it to Lisbon, I stepped off the plane into a sunny, 17°C weather, which was a very nice change from the horrible weather in London.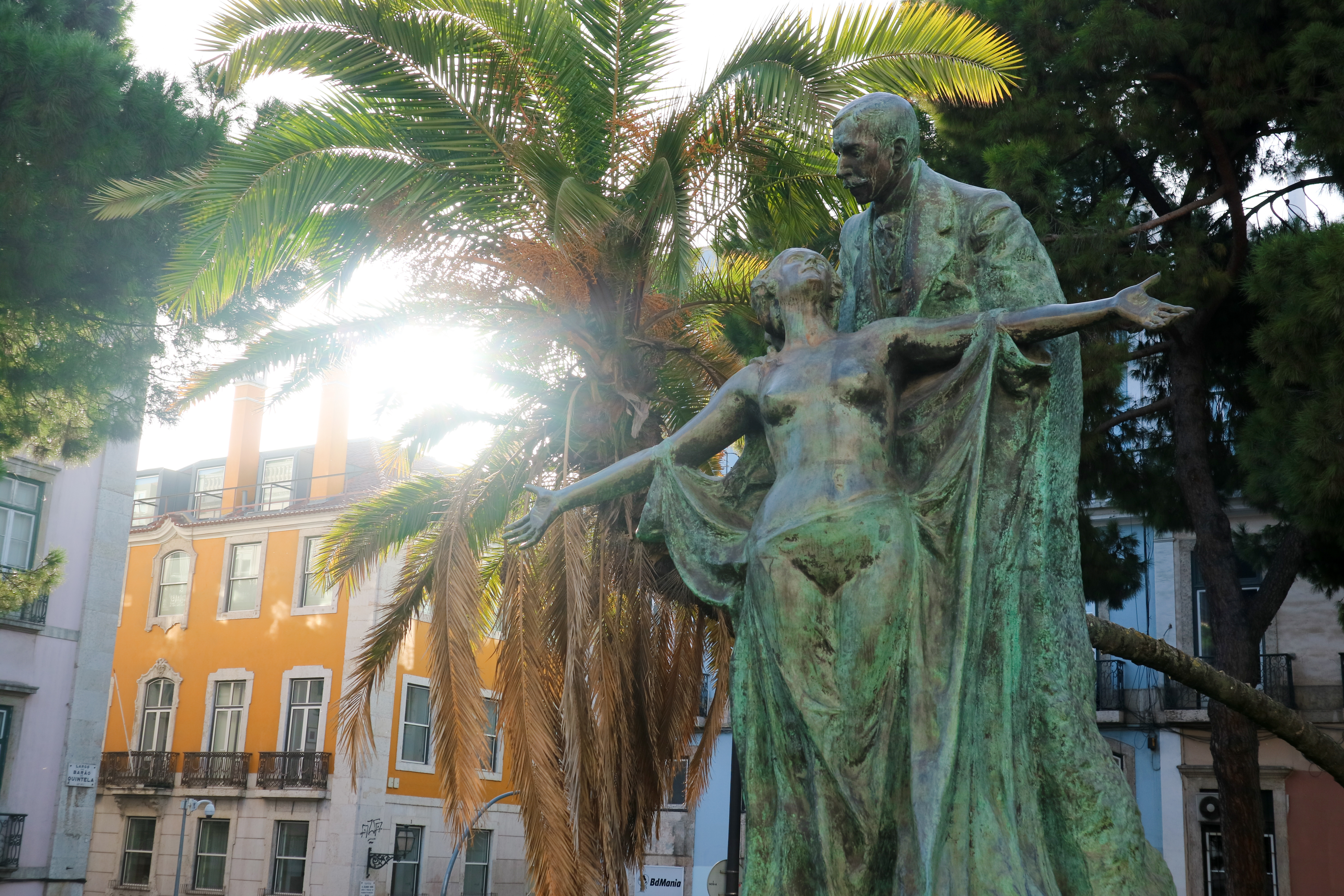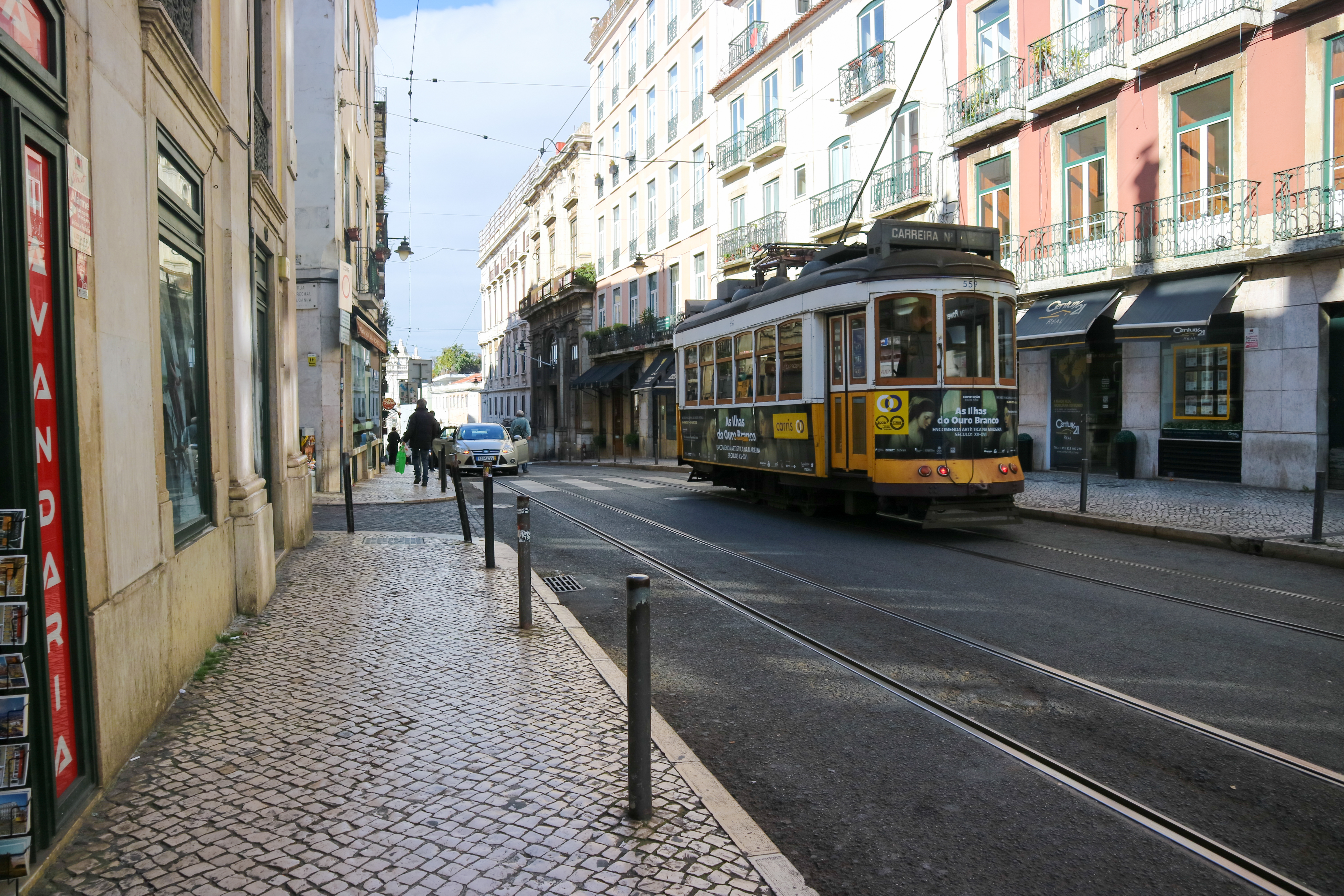 TRAVEL TIP: a taxi from the airport to the Rossio district will cost around €12 – €15, while a single metro ticket costs €1.45 and a 24-hour public transport ticket covers the metro, buses and trams and costs €6.15
Thankfully I had learnt from my first experience in a hostel and this time I looked specifically for a female only dormitory (read about my awkward experience in Bucharest). Luckily enough, it turned out that I had the four-bedroom dormitory to myself for the first three nights.
After settling into my room, I went out on the hunt for food.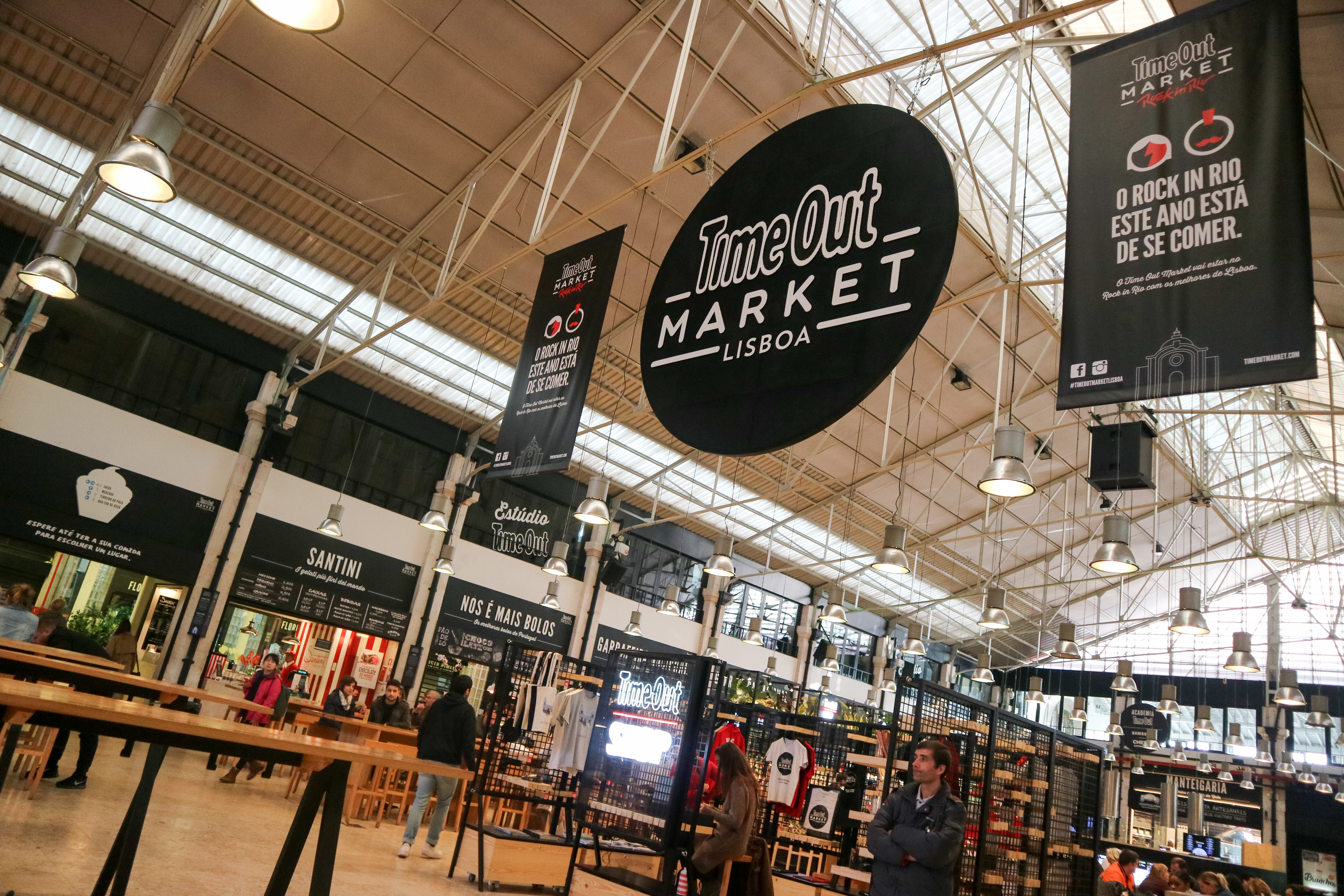 Time Out Market Lisboa is a food hall with a range of food outlets and bars. It was here that my daily nata eating began lol.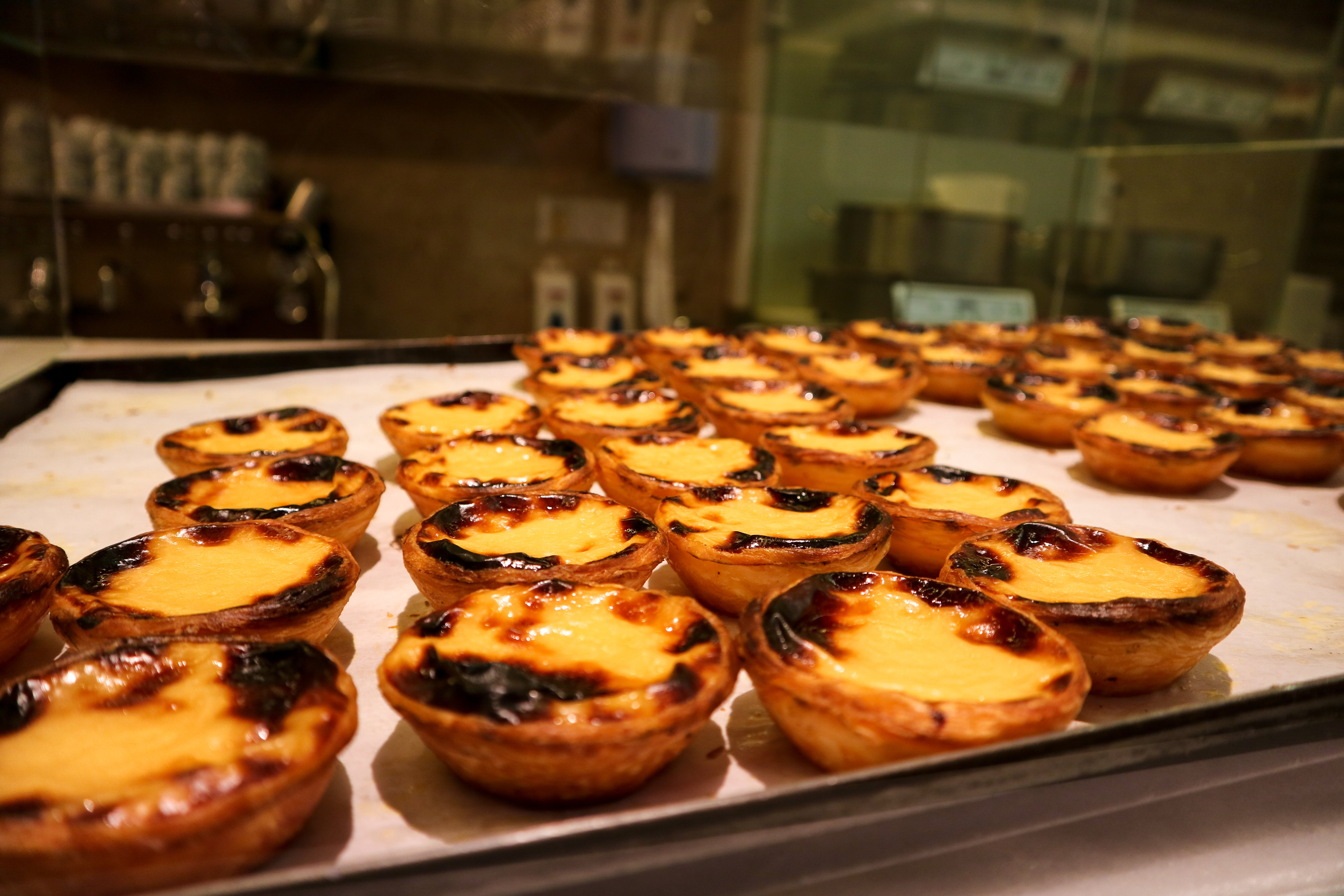 Lisbon is a city known for its street art and as I am someone who is obsessed with cool street art, I couldn't help but stop to take a quick photo or two.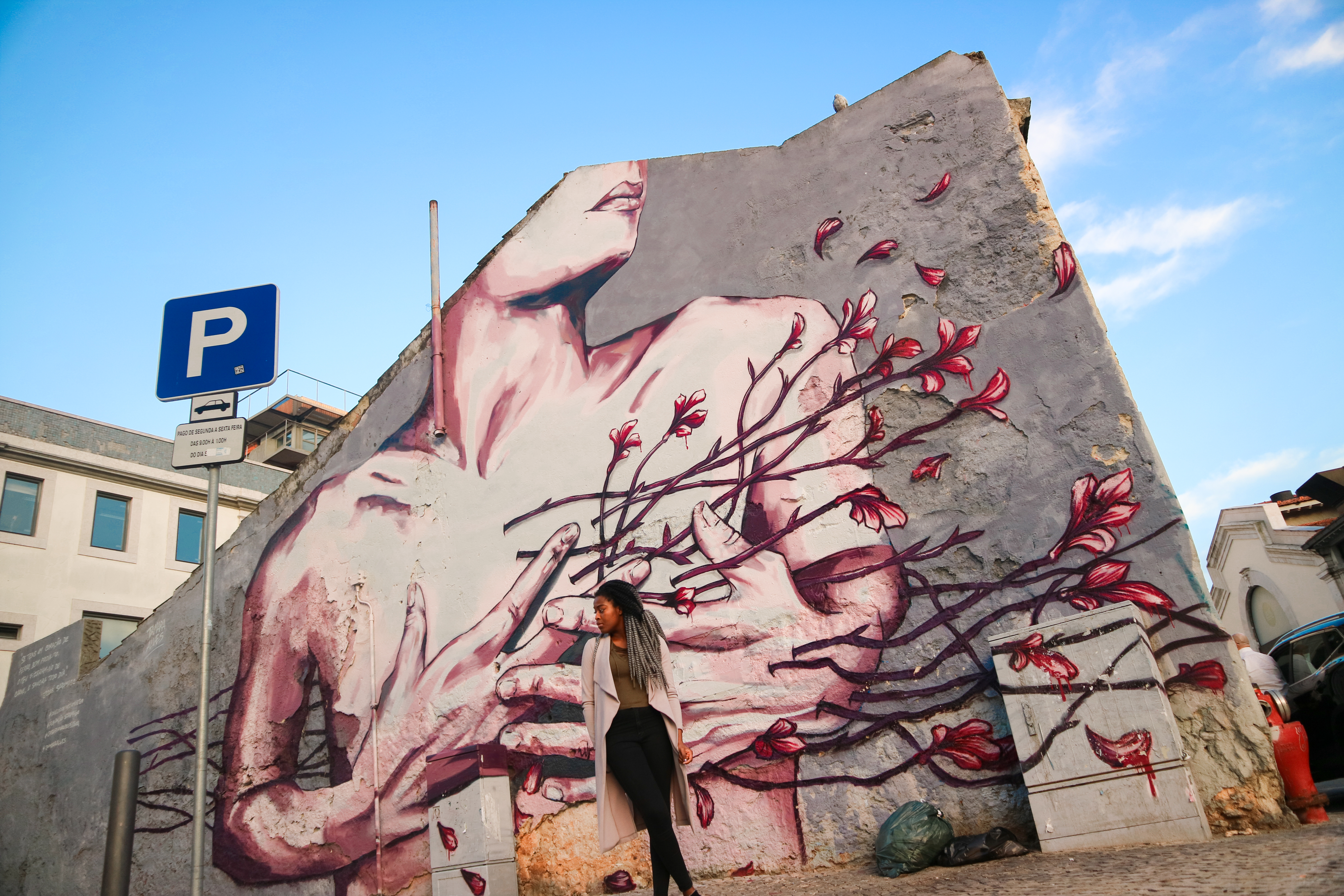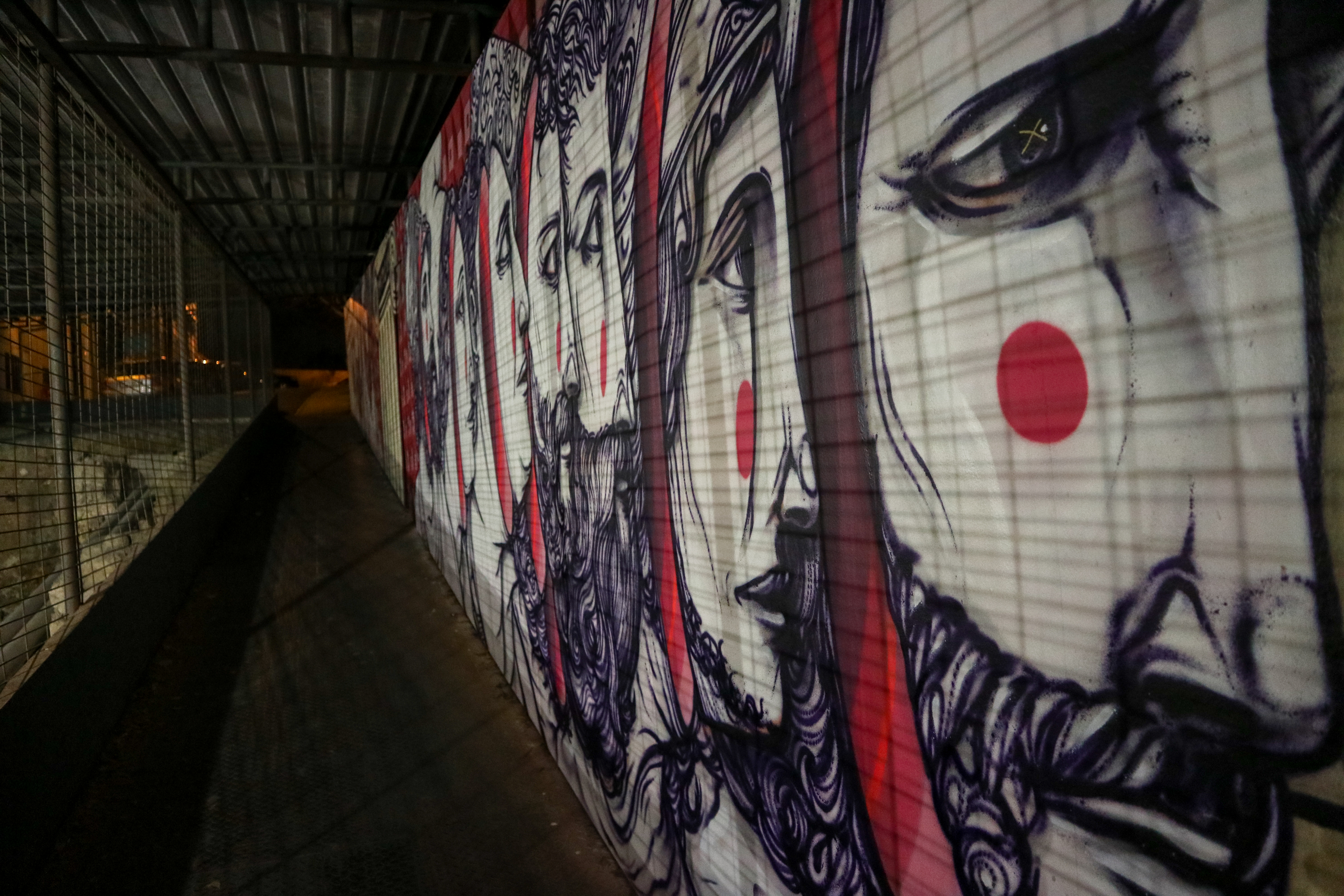 TRAVEL TIP: if you are a street art lover, then check out this Lisbon street art app that will help you locate Lisbon's best street art.
A short walk from the Praça do Comércio, I took in the beautiful sunset and in the distance was the 25 de Abril Bridge (a bridge that resembles the Golden Gate Bridge in San Francisco).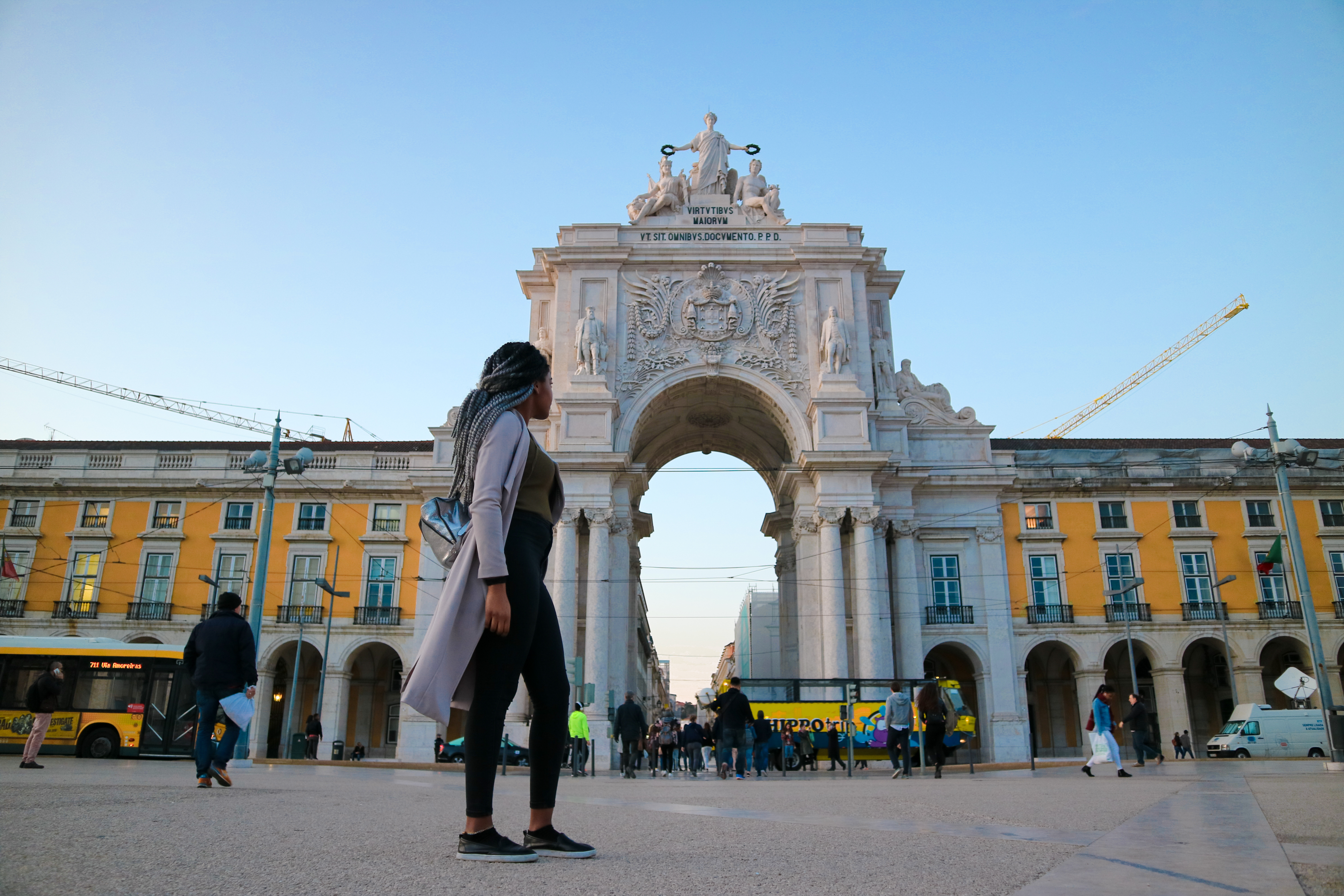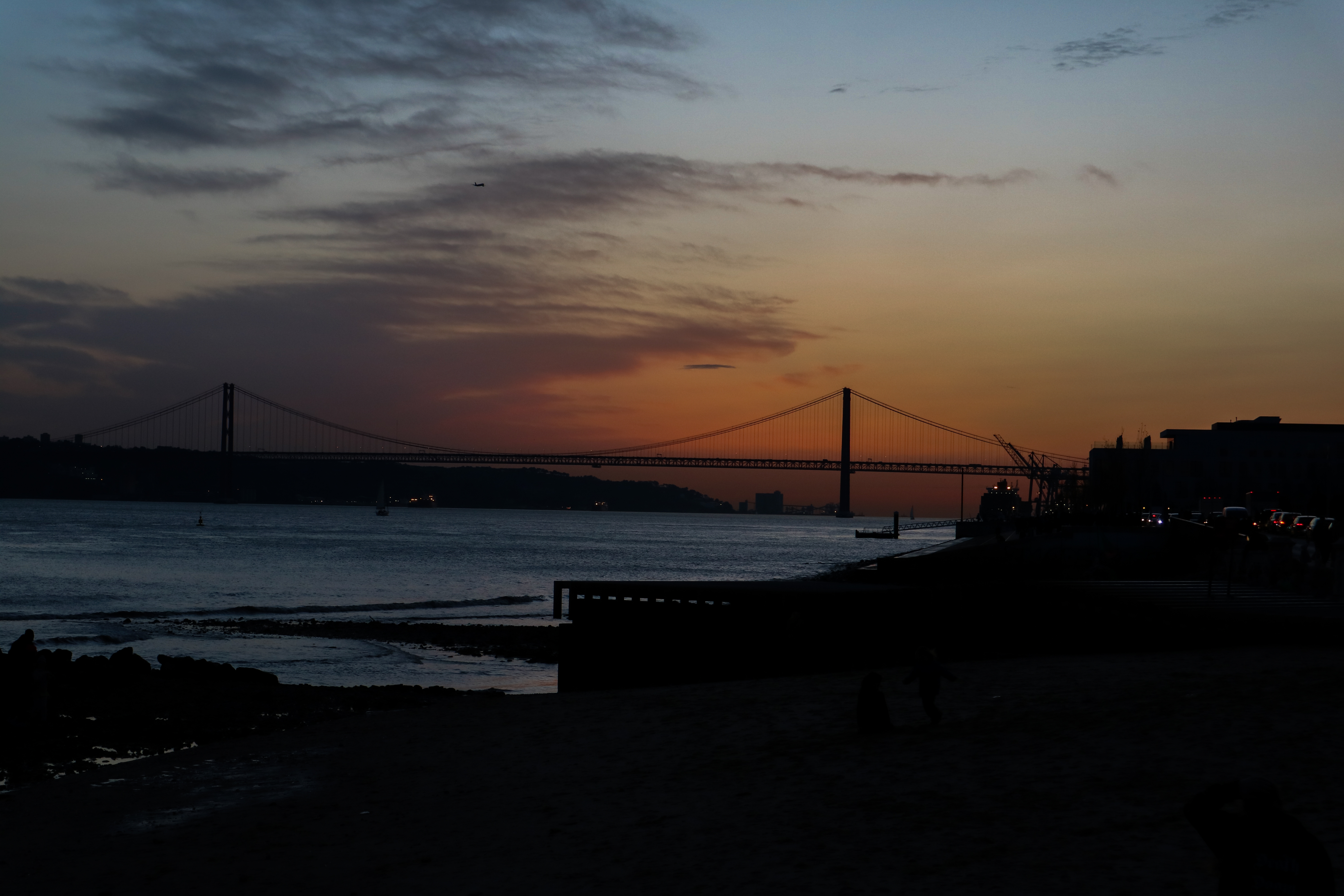 I ended the day at a viewpoint, taking in the beautiful views of Lisbon at night.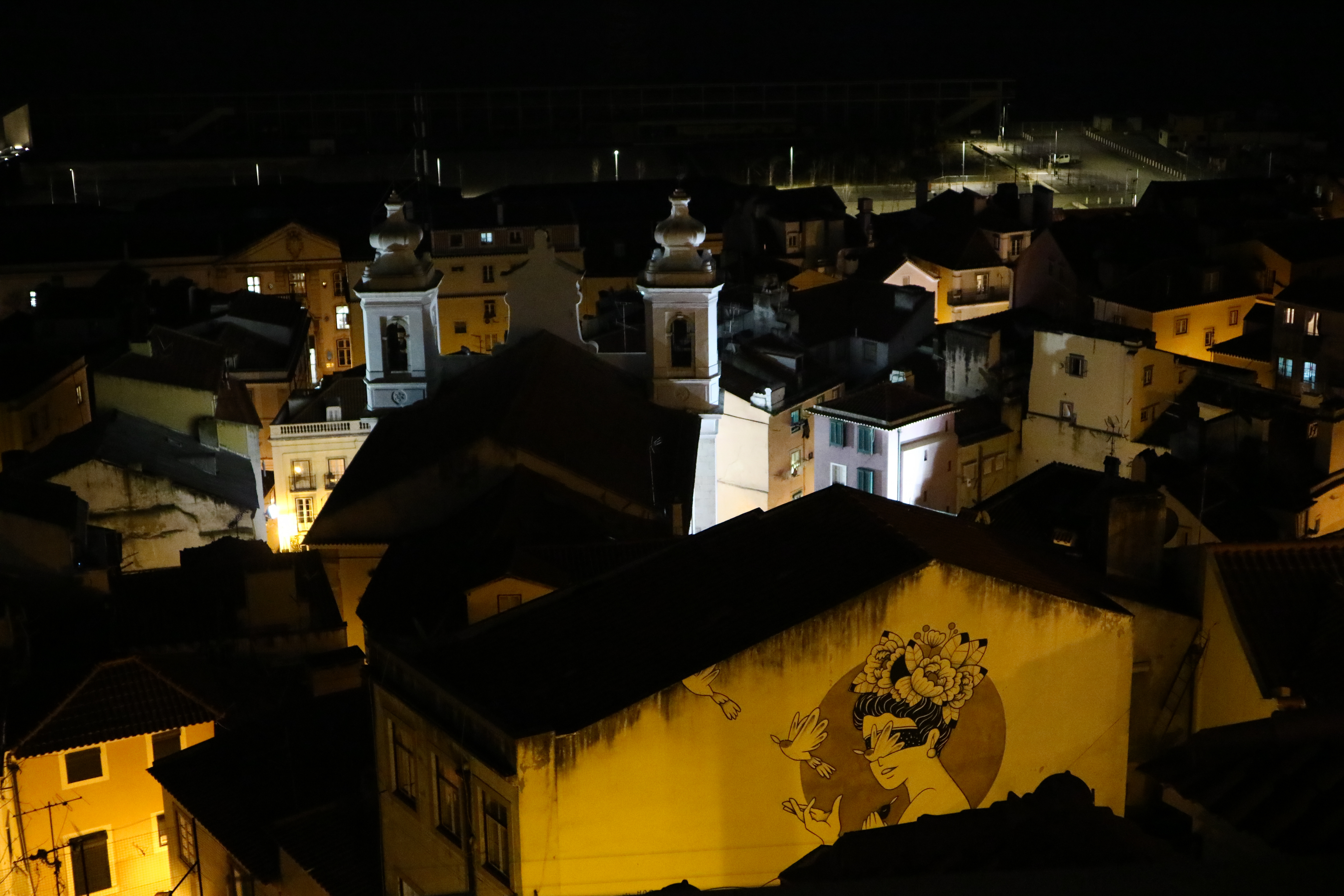 Day two: day trip to Cascais
On day two, I visited the pretty coastal town of Cascais. This was one of two day trips that I took while I was in Portugal. I will have a separate blog post about my experiences in both towns.
Day three: Belem and Fronteira Palace
This was my busiest day in Lisbon.
Before making my way to the Belem district, I visited some cute fountains in Rossio Square (AKA Praça Dom Pedro IV). Because who doesn't love a beautiful fountain or two?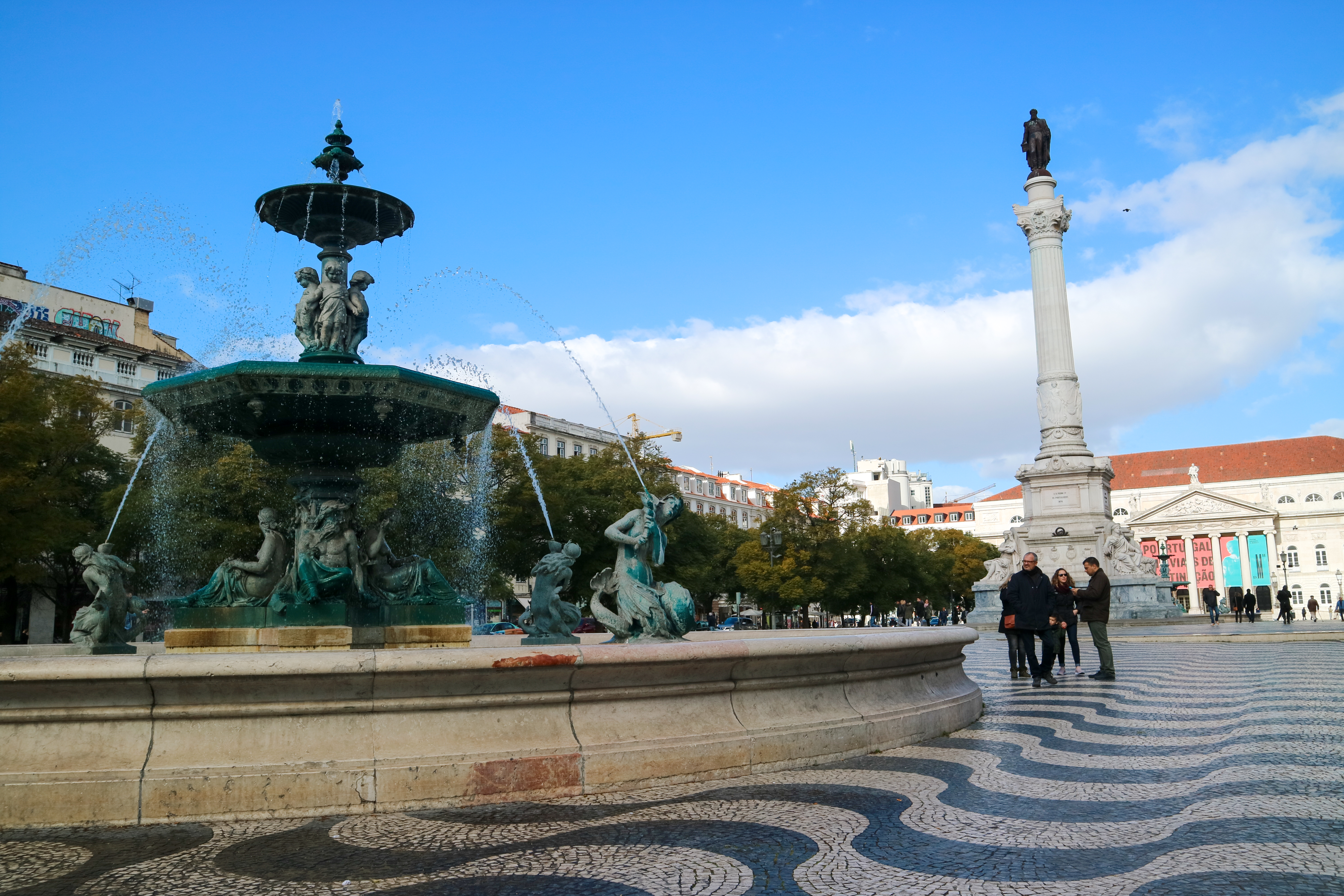 Belem is definitely a must see if you are ever in Lisbon. There is so much to see and do in this district that is packed with history.
My first stop was obviously food related lol. I visited the Casa Pasteis De Belem – the traditional home of the Pastel de Nata.
Natas are not simply custard tarts, they are gifts from the gods lol. If you haven't had a nata before (Nando's natas don't count lol), then you have not lived! 😍
The Casa Pasteis De Belem follows the ancient and secret recipe that was developed in the 18th century by Catholic nuns in the Jerónimos Monastery, which also happened to be my next stop.
The Jerónimos Monastery was without a doubt my fave stop in Lisbon. It's not hard to see why, just look at these pictures! 😍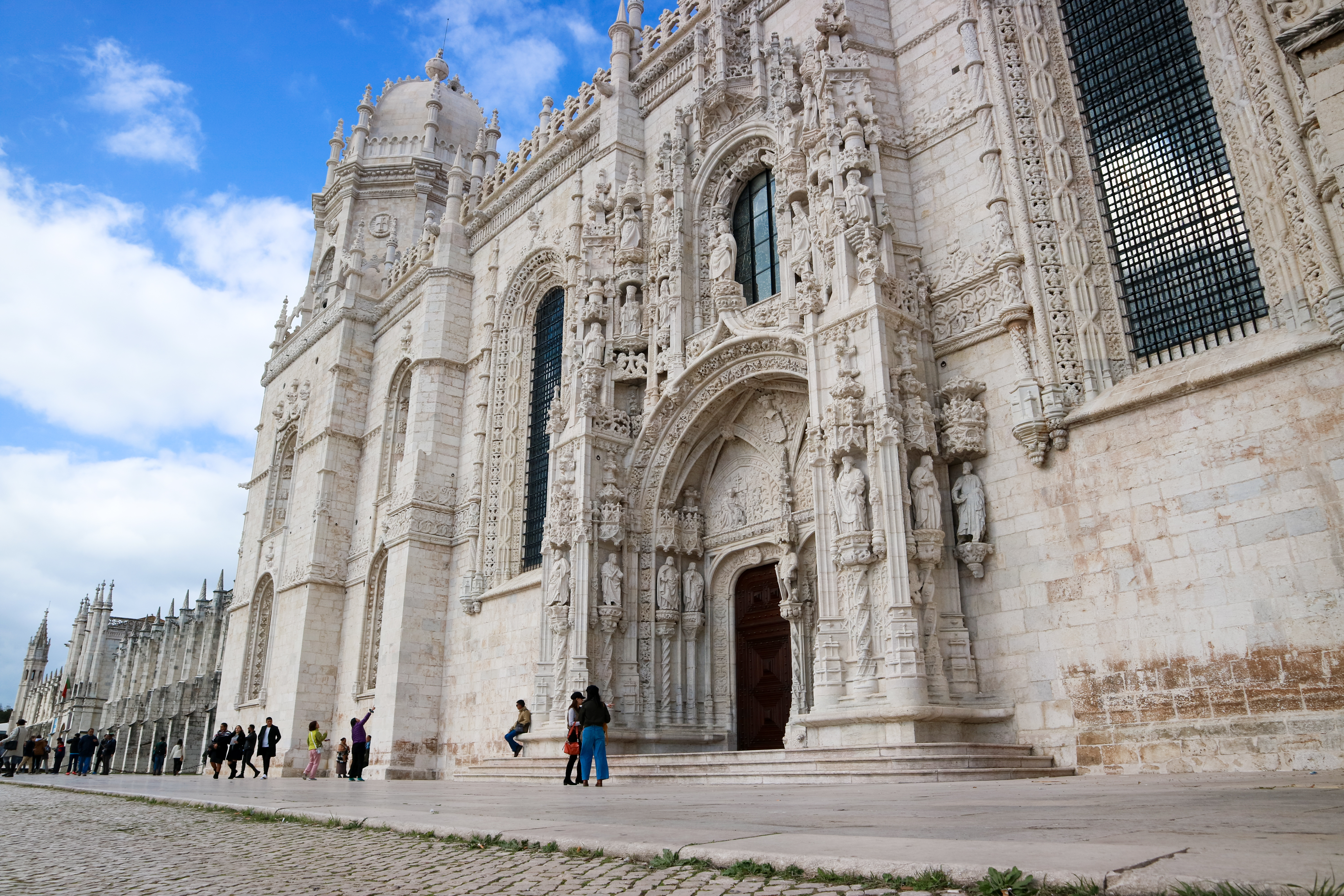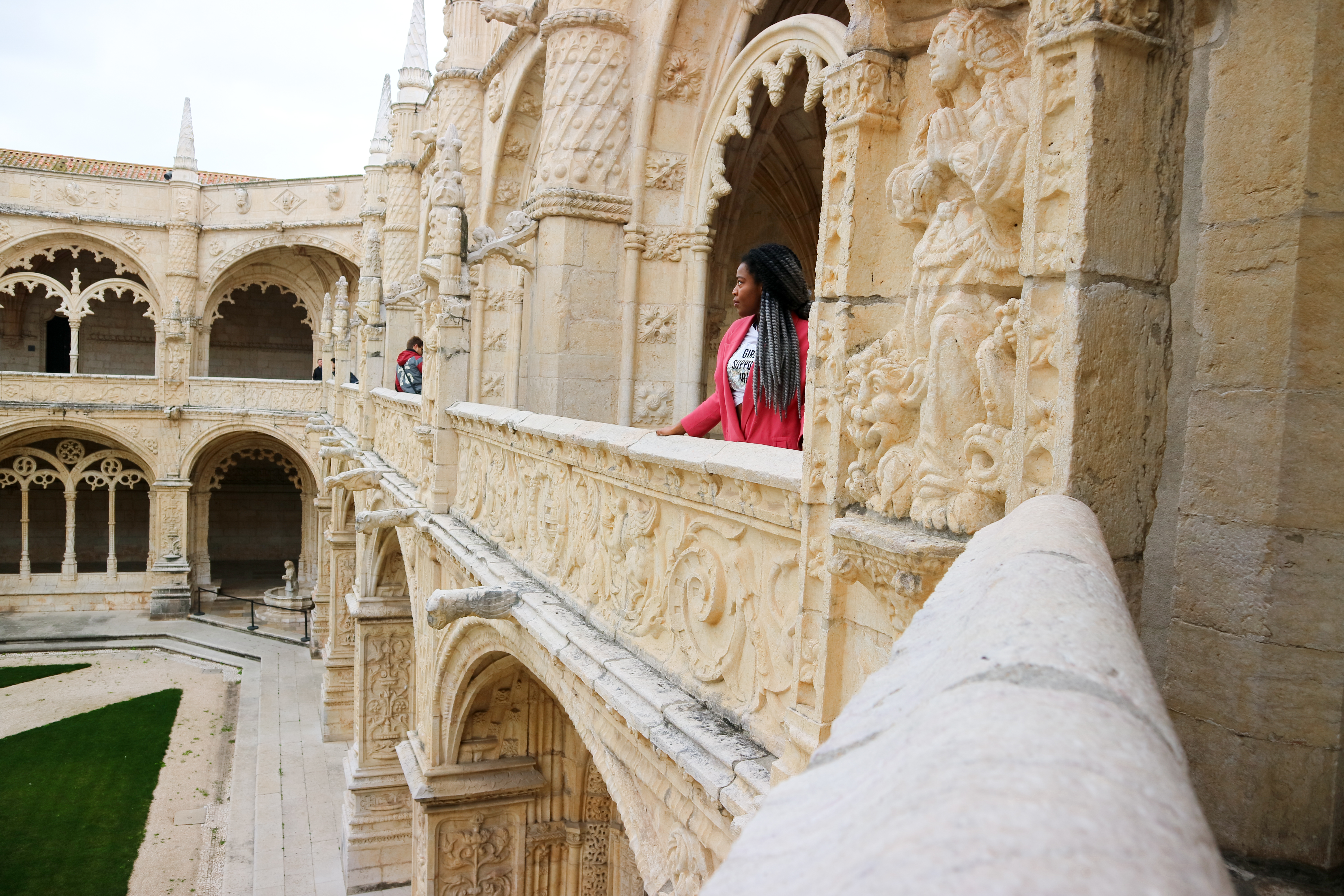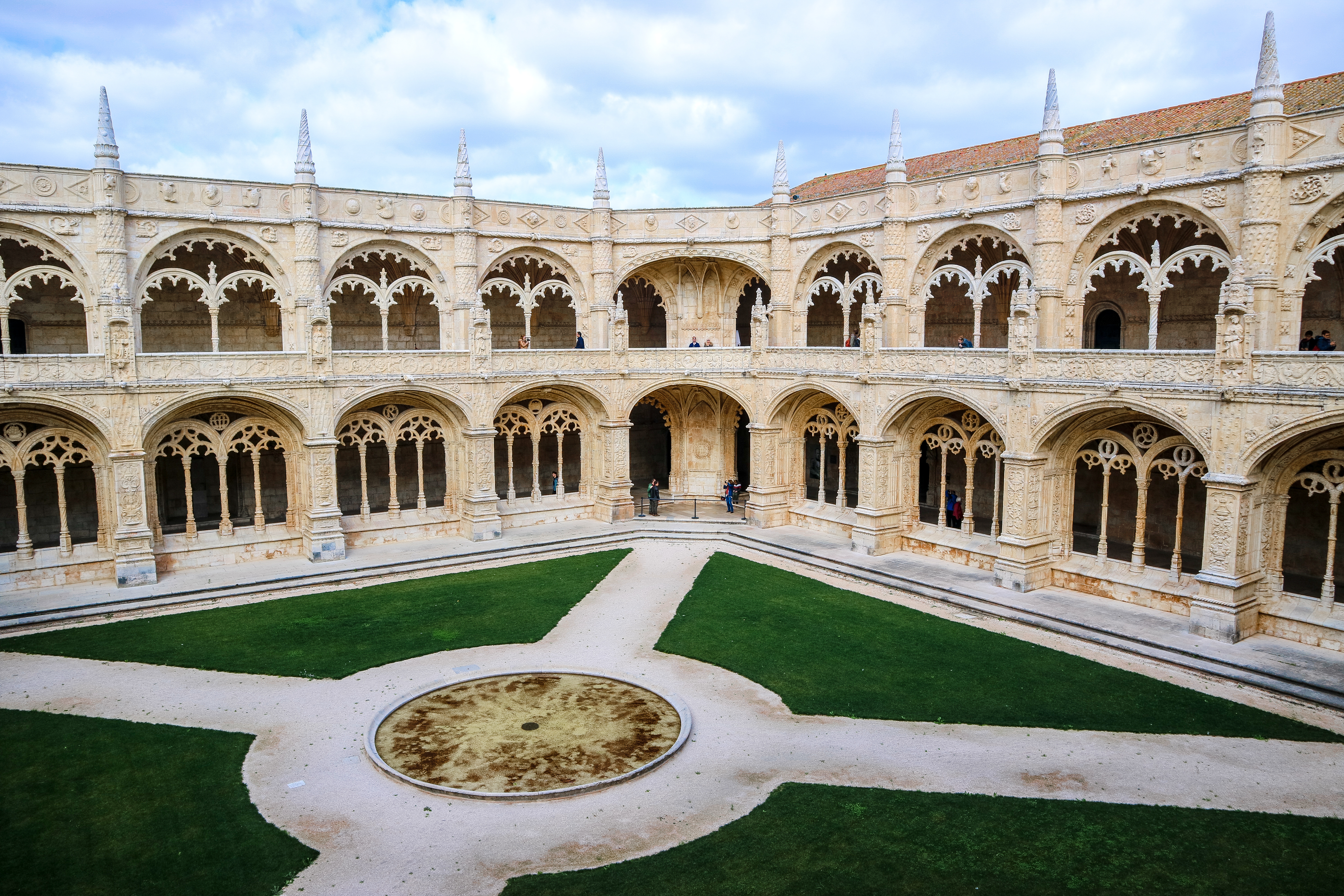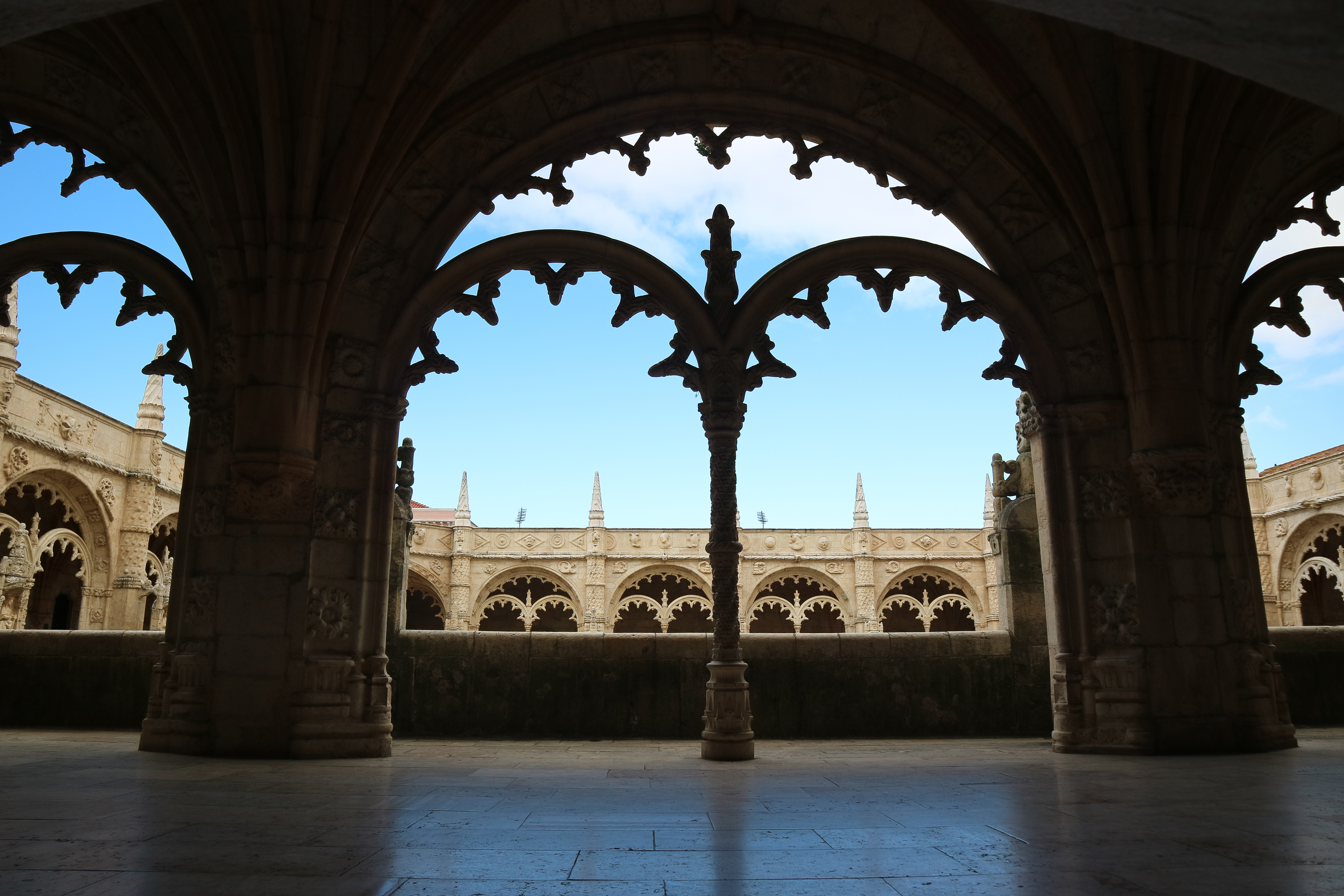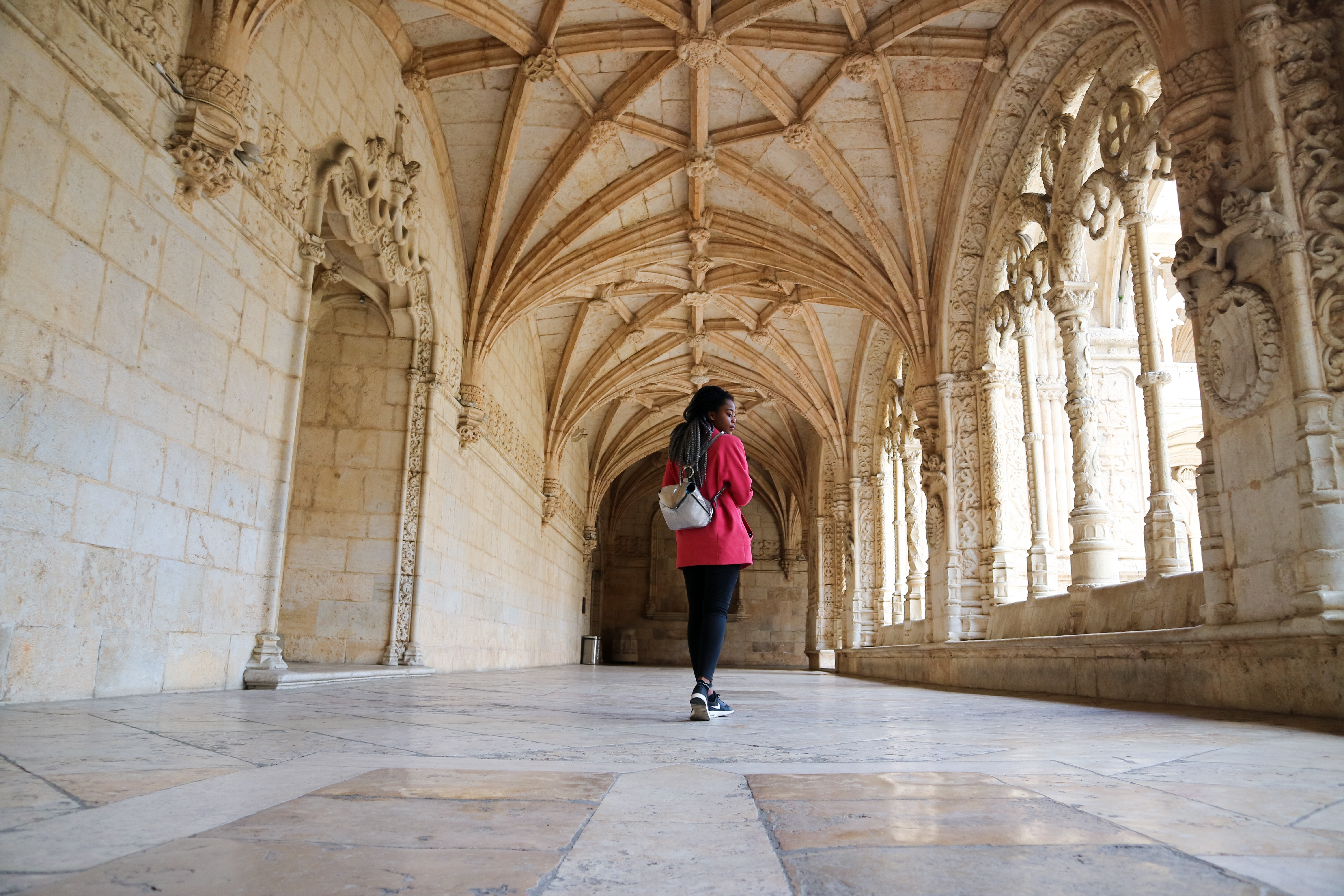 TRAVEL TIP: It is possible to purchase combined tickets that give you entrance to two or three select tourist attractions for a reduced price. So definitely look into this if you plan to visit a few attractions.
I made a brief stop at Padrão dos Descobrimentos to take some pictures. I decided not to go up to see the view since I'd be going up Belem Tower.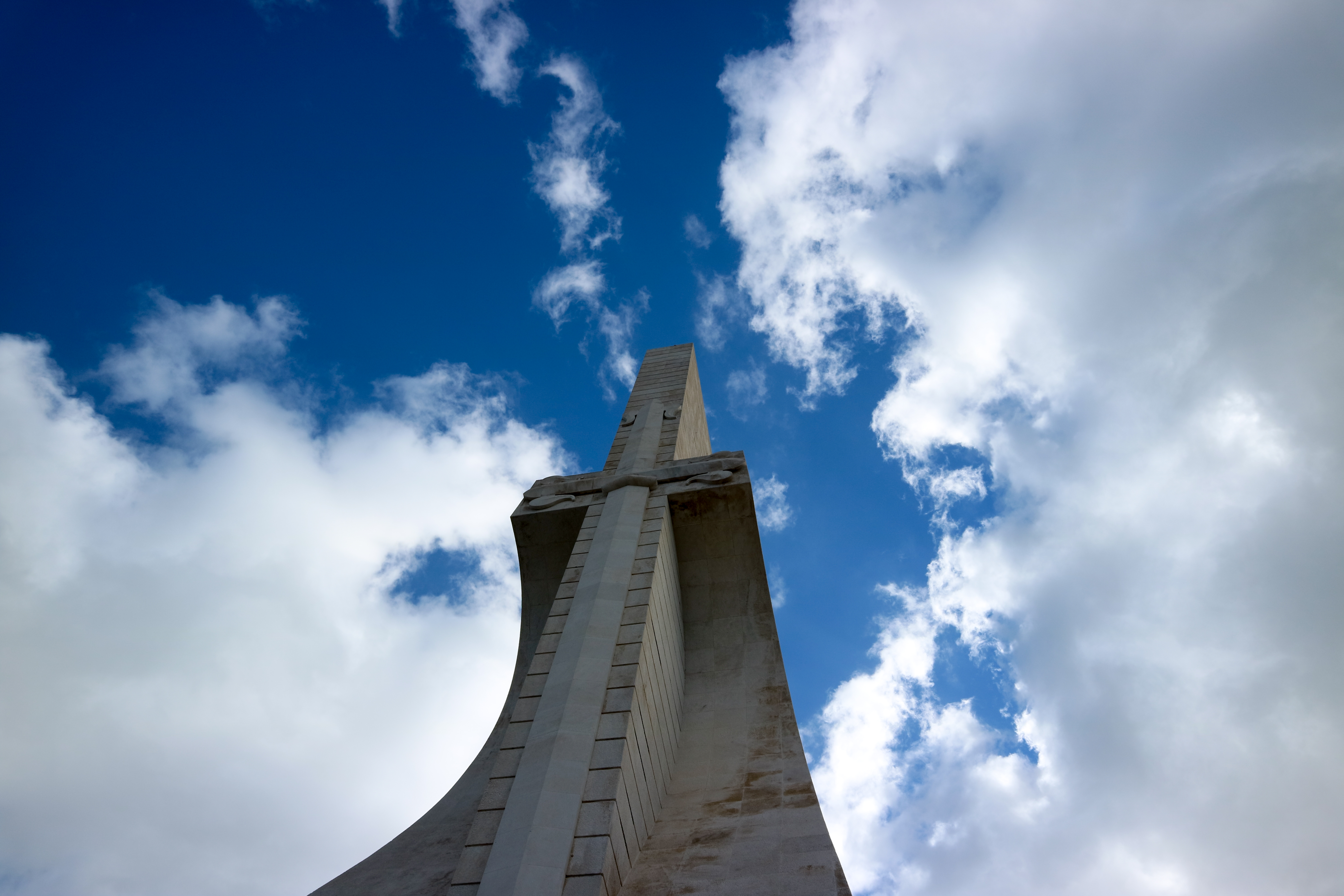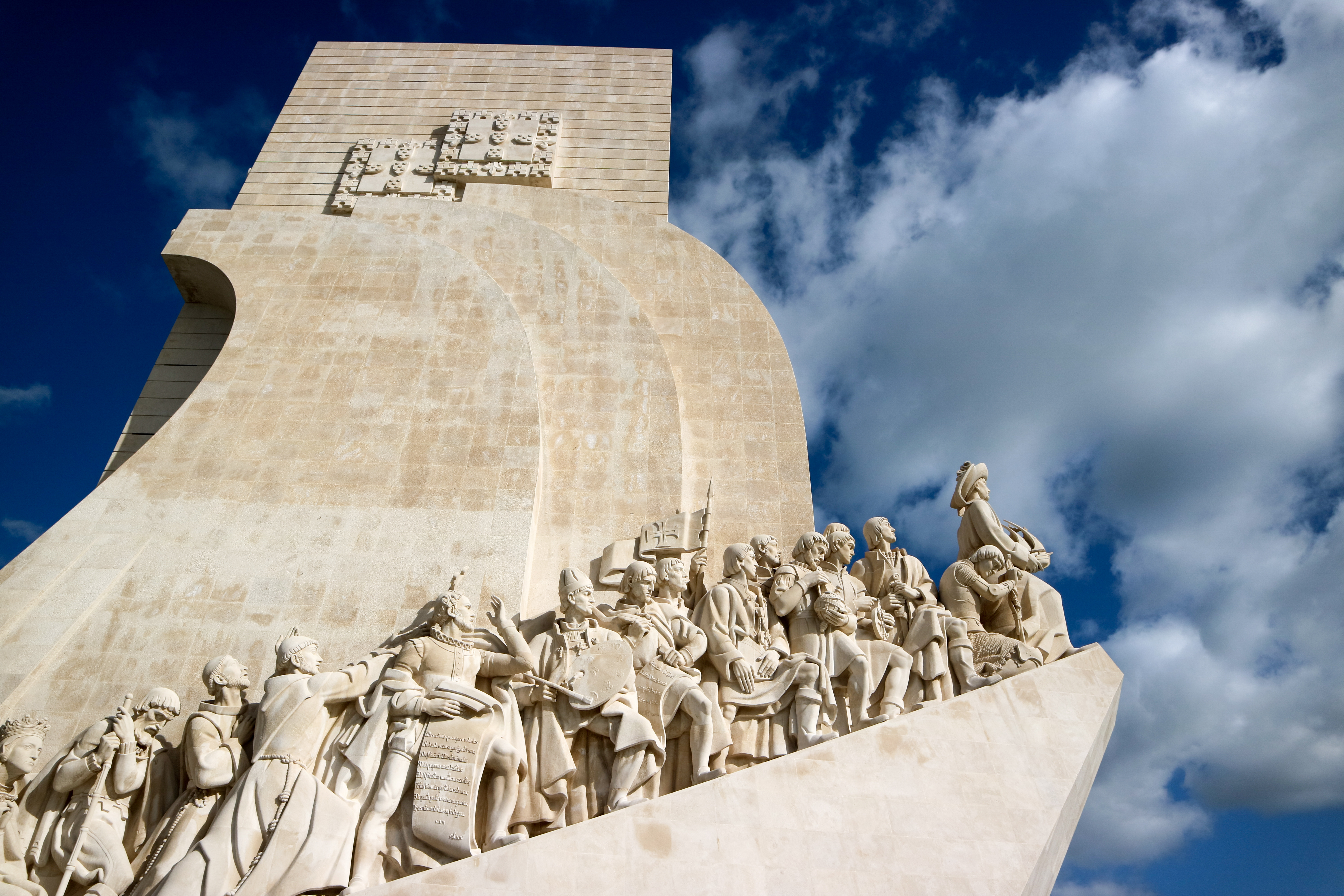 TRAVEL TIP: If you're not a fan of long queues and crowds of tourists EVERYWHERE, then you may want to consider visiting Lisbon during their off-peak season (the peak season is June until the end of August).
Belem Tower is a small fort that was constructed in 1521 to protect Lisbon from seafaring raiders.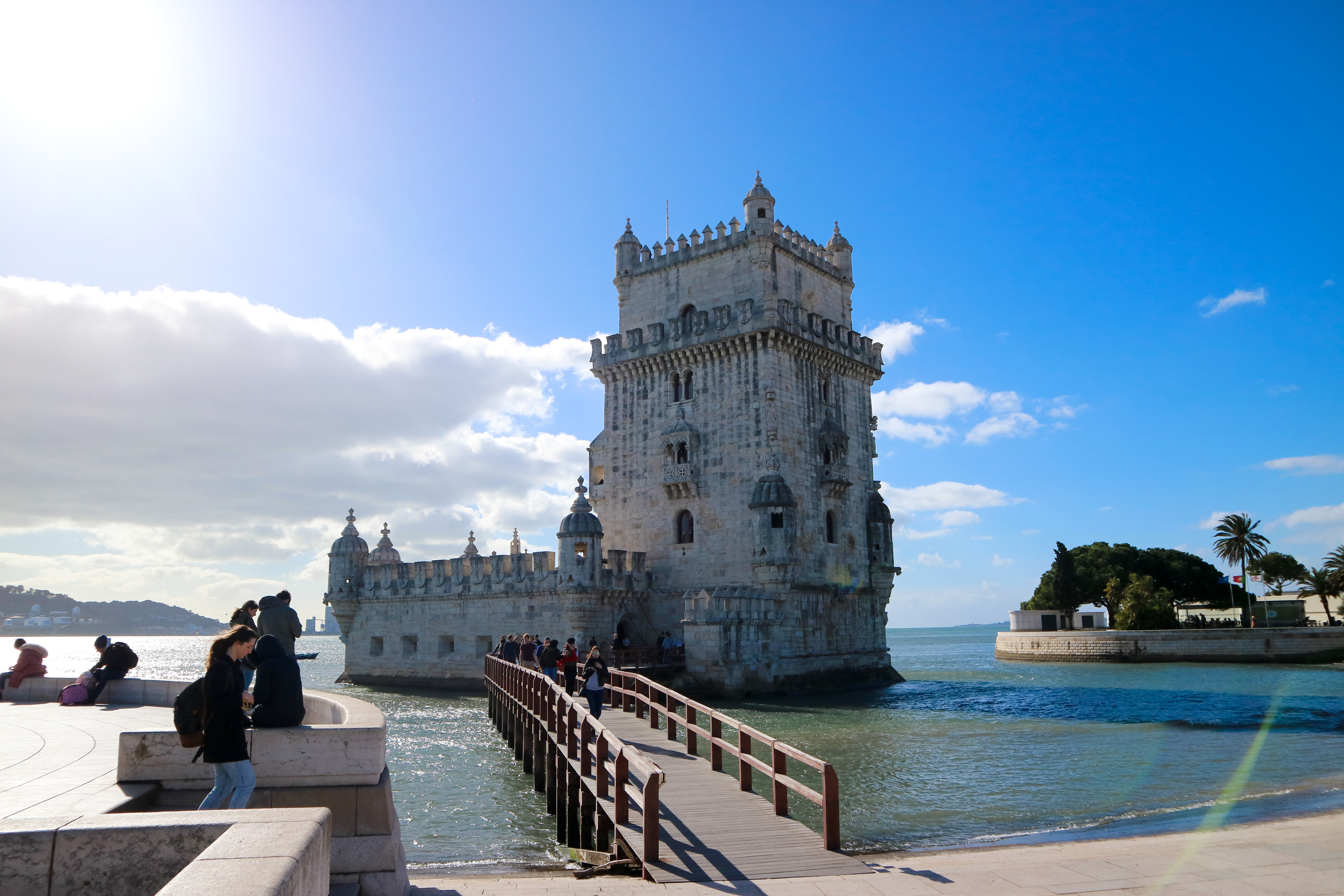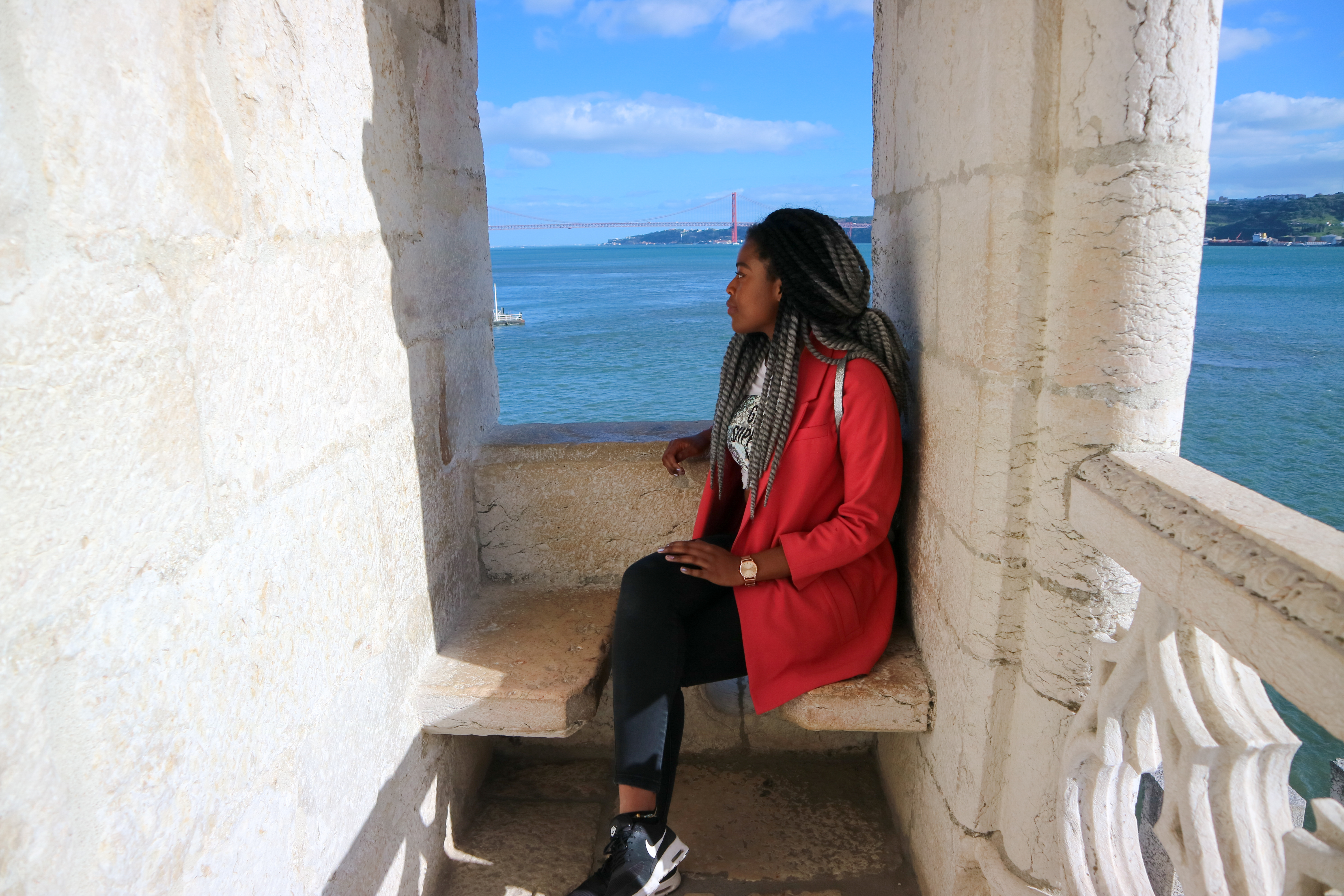 TRAVEL TIP: All pictures in this blog post were taken by moi apart from this one picture of me in Belem Tower. For tips on getting amazing pictures on your solo trips check out my blog post. Also, follow me on the gram for more pictures of Lisbon and my other travels.
I spent the remainder of the day taking in the beautiful gardens of Fronteira Palace (AKA Palace of the Marquises of Fronteira).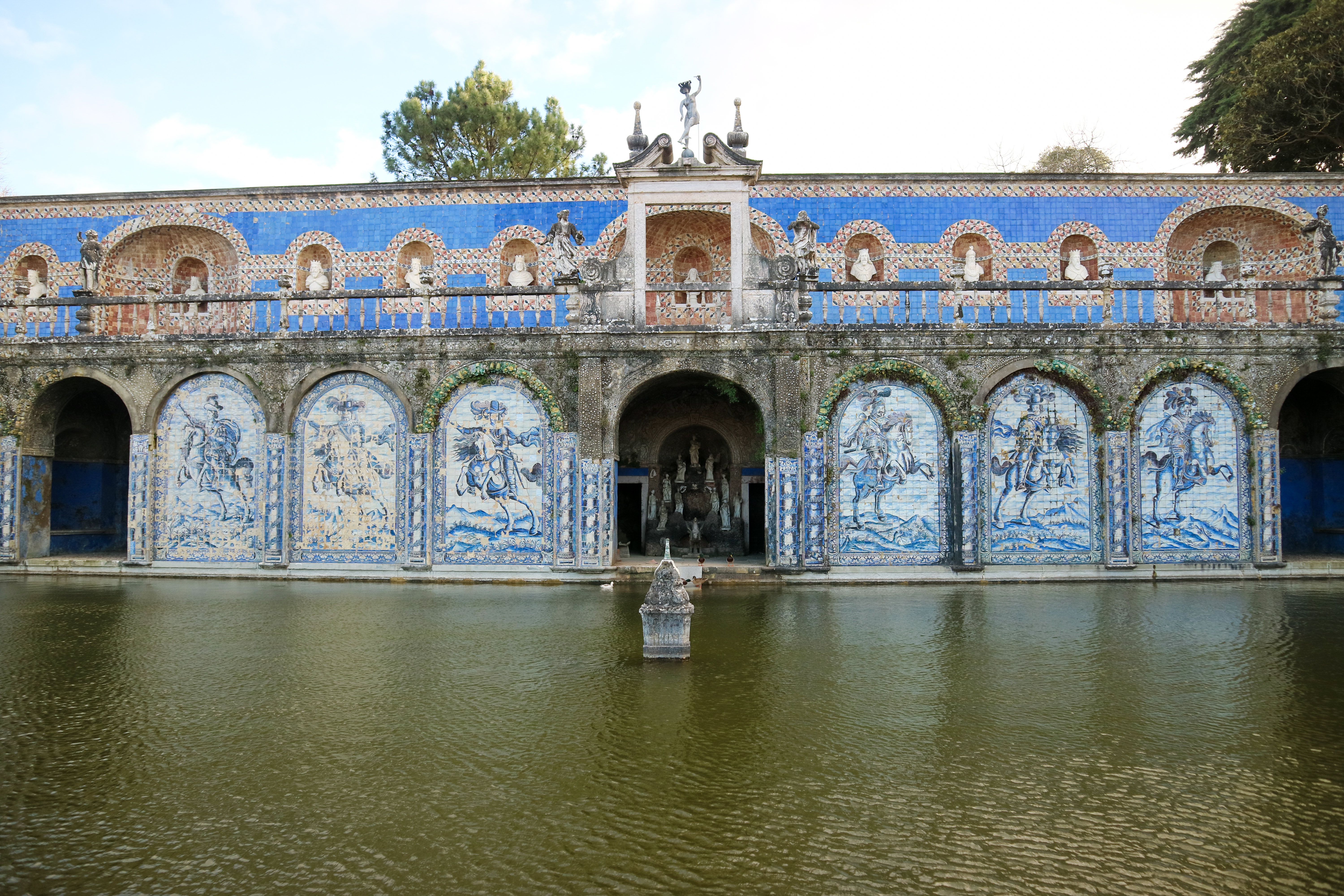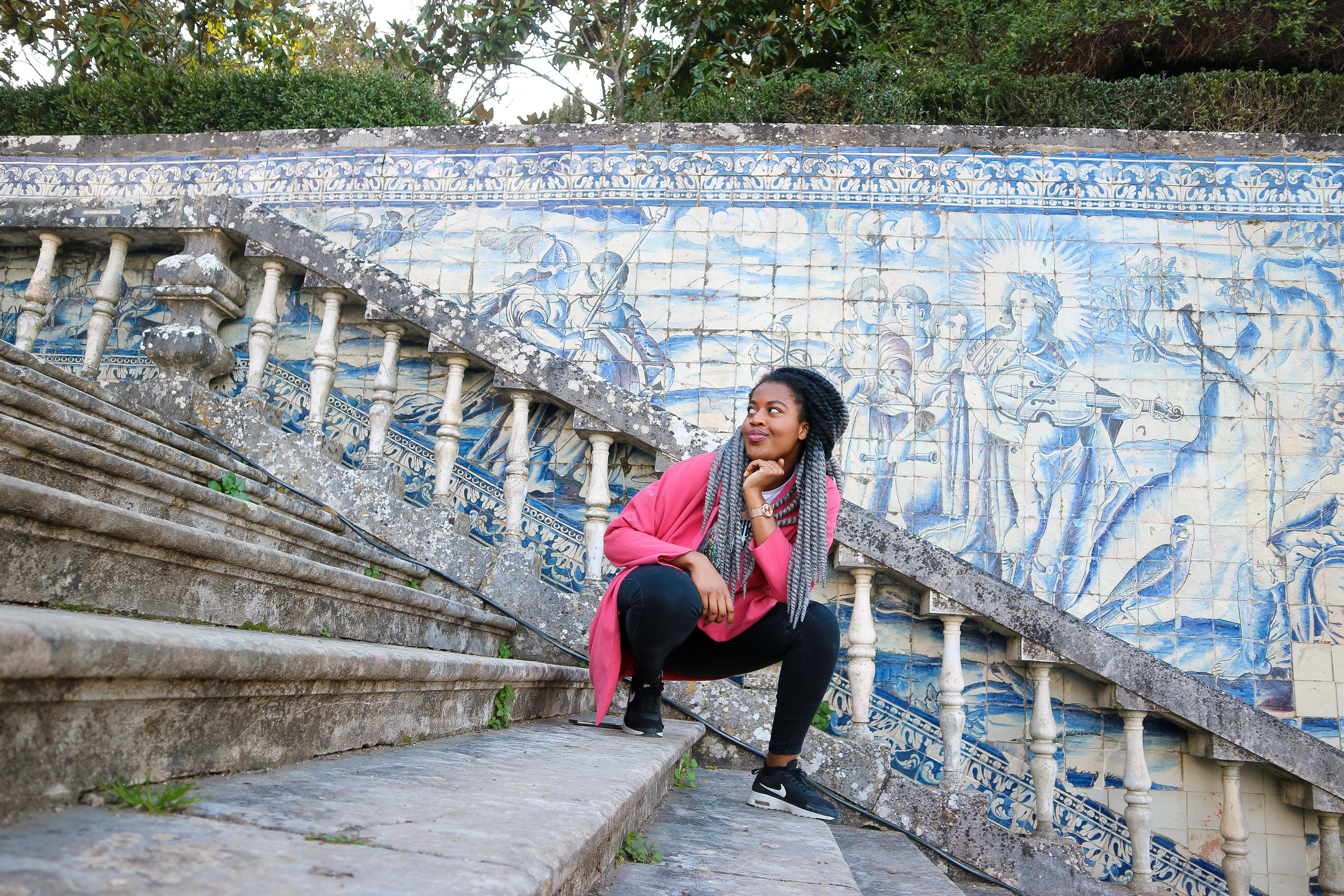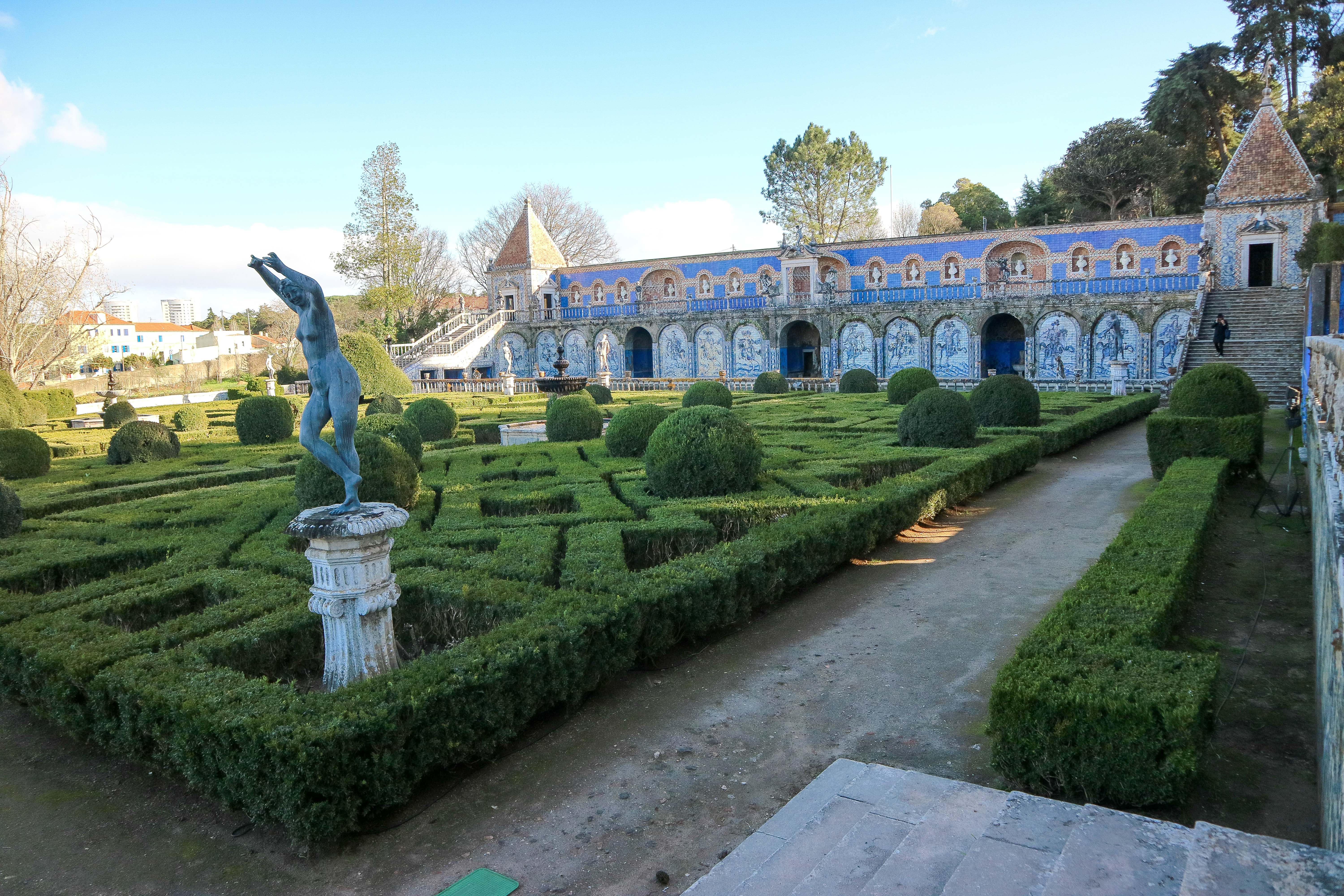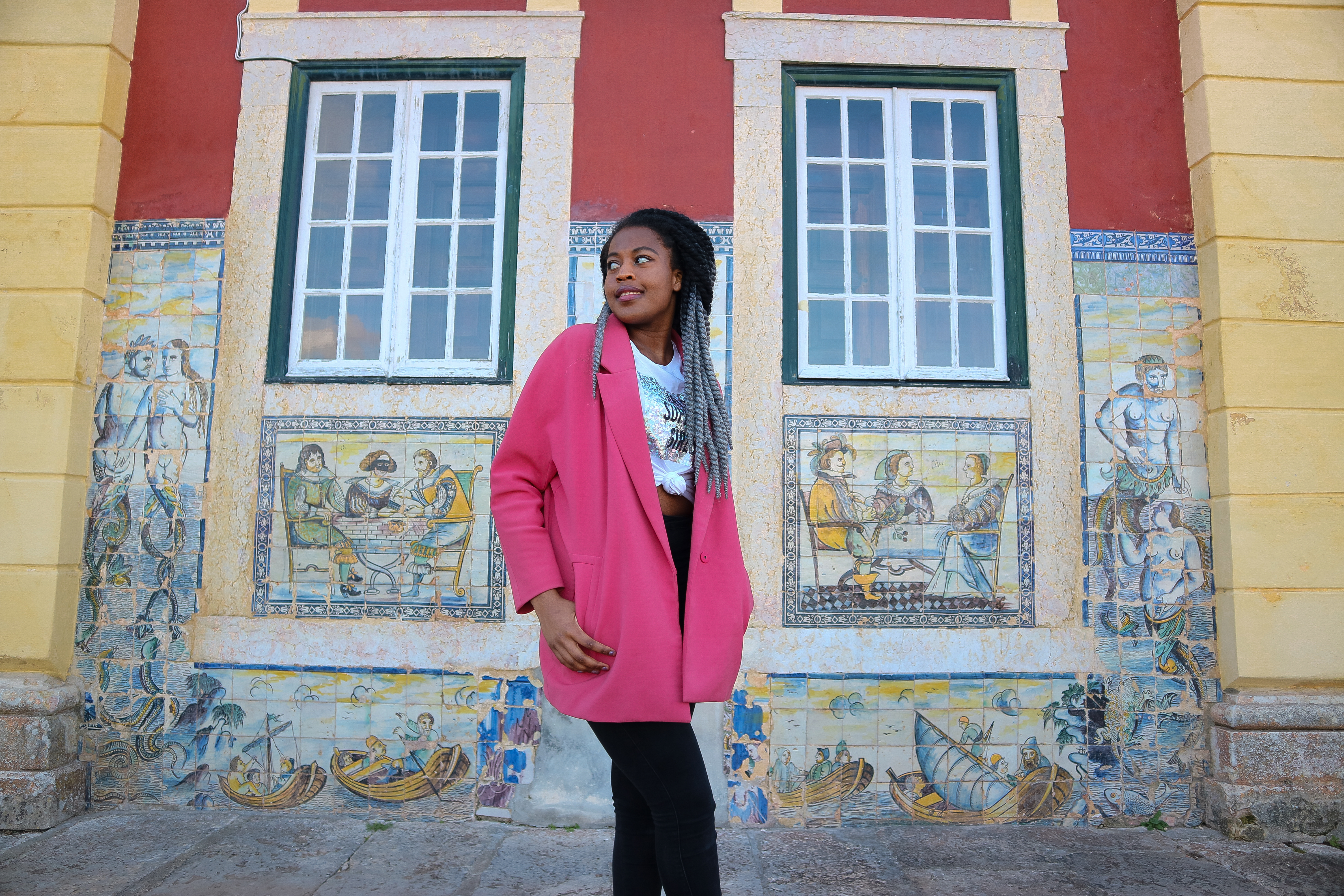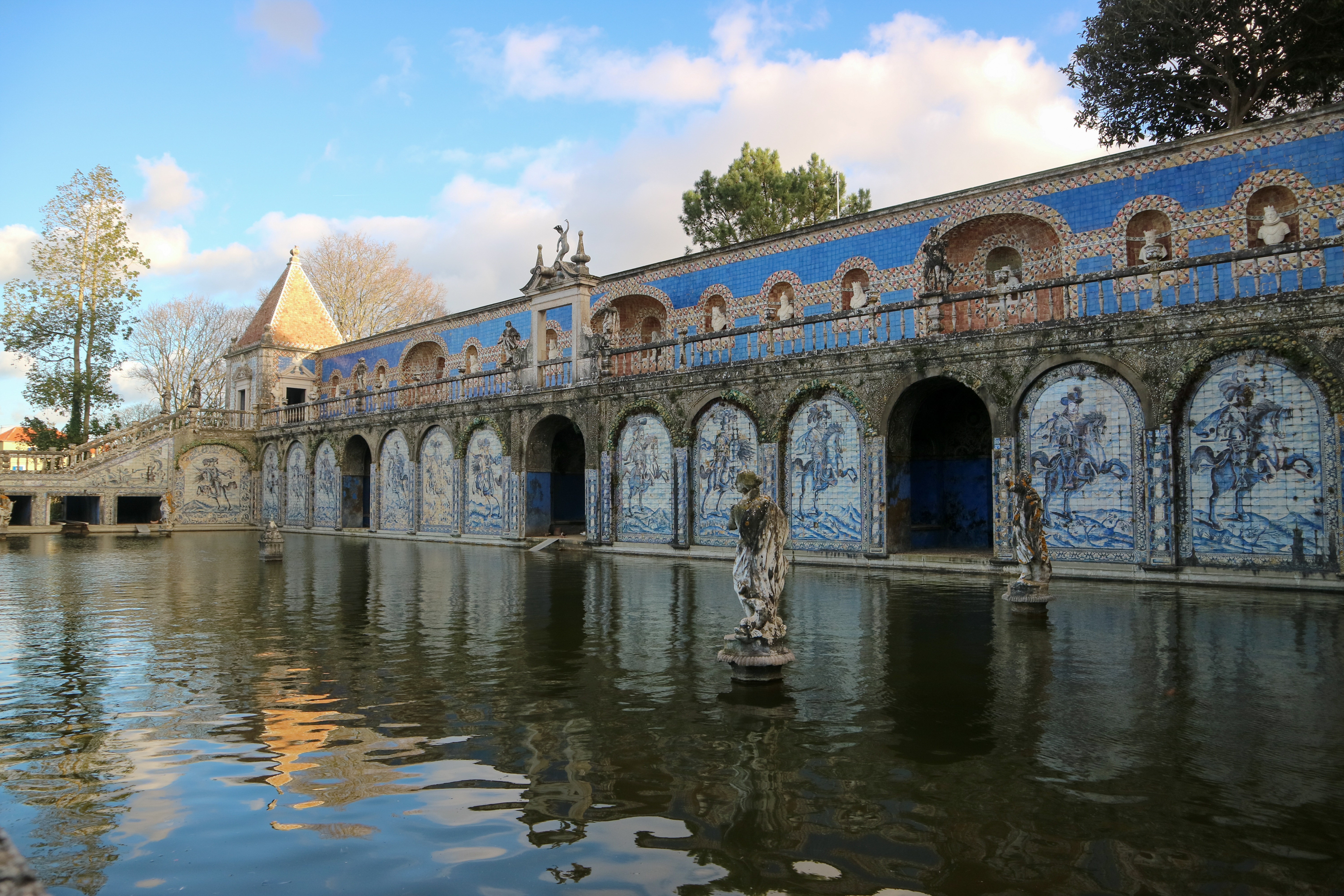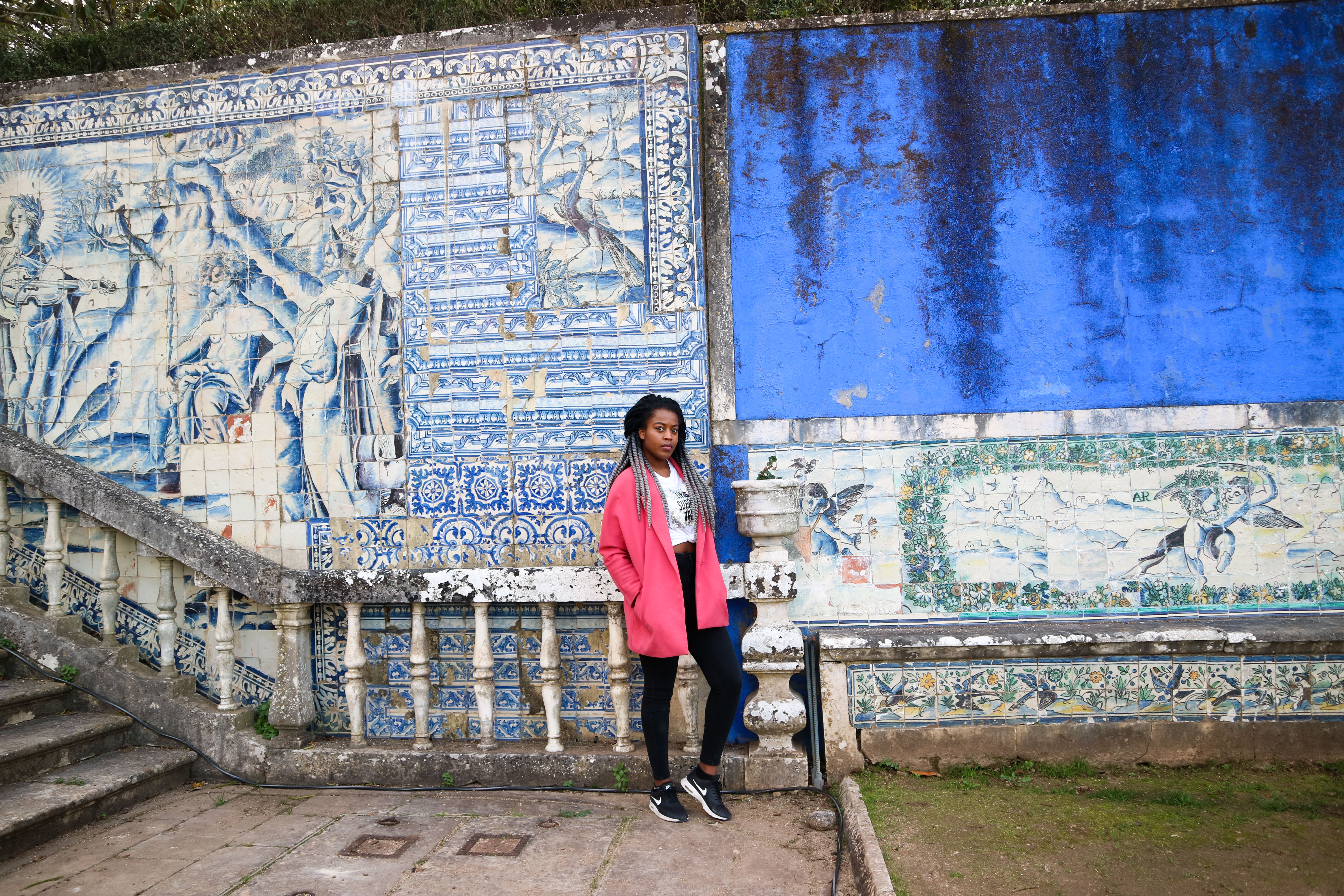 I stayed there until I no longer had feeling in my fingers… Apart from the first day, the weather in Lisbon was a lot colder than I had expected. 😭
By the evening, I was exhausted, but I somehow managed to still trek up endless hills and stairs to reach one of the many beautiful viewpoints in Lisbon. Then freezing my ass off, I stayed there for over an hour to film a time-lapse that barely made it into my vlog 😭 (see the end of this blog post for my vlog).
At a little local restaurant (that was in a park btw), I was perved on by a Nigerian uncle. Who can relate?
I will definitely be sharing this experience and my other experiences with men while travelling, in a future vlog. There are so many stories! 😩
Make sure you are subscribed to my channel.
Day four: day trip to Sintra
Day four was without a doubt my favourite day out of the five days. On this day, I finally got to see the beautiful town of Sintra with it's very colourful Pena Palace. Keep an eye out for my separate blog post about Cascais and Sintra.
Day five:
After the last few busy days, on my last day in Lisbon I found myself feeling extremely tired and faint (I'm anaemic). There was no way that I could physically meet my tight schedule. So I found myself with no other option than to rip up my itinerary and opt for a chill day instead.
I ended up taking a walk, visiting a park and taking many pictures along the way.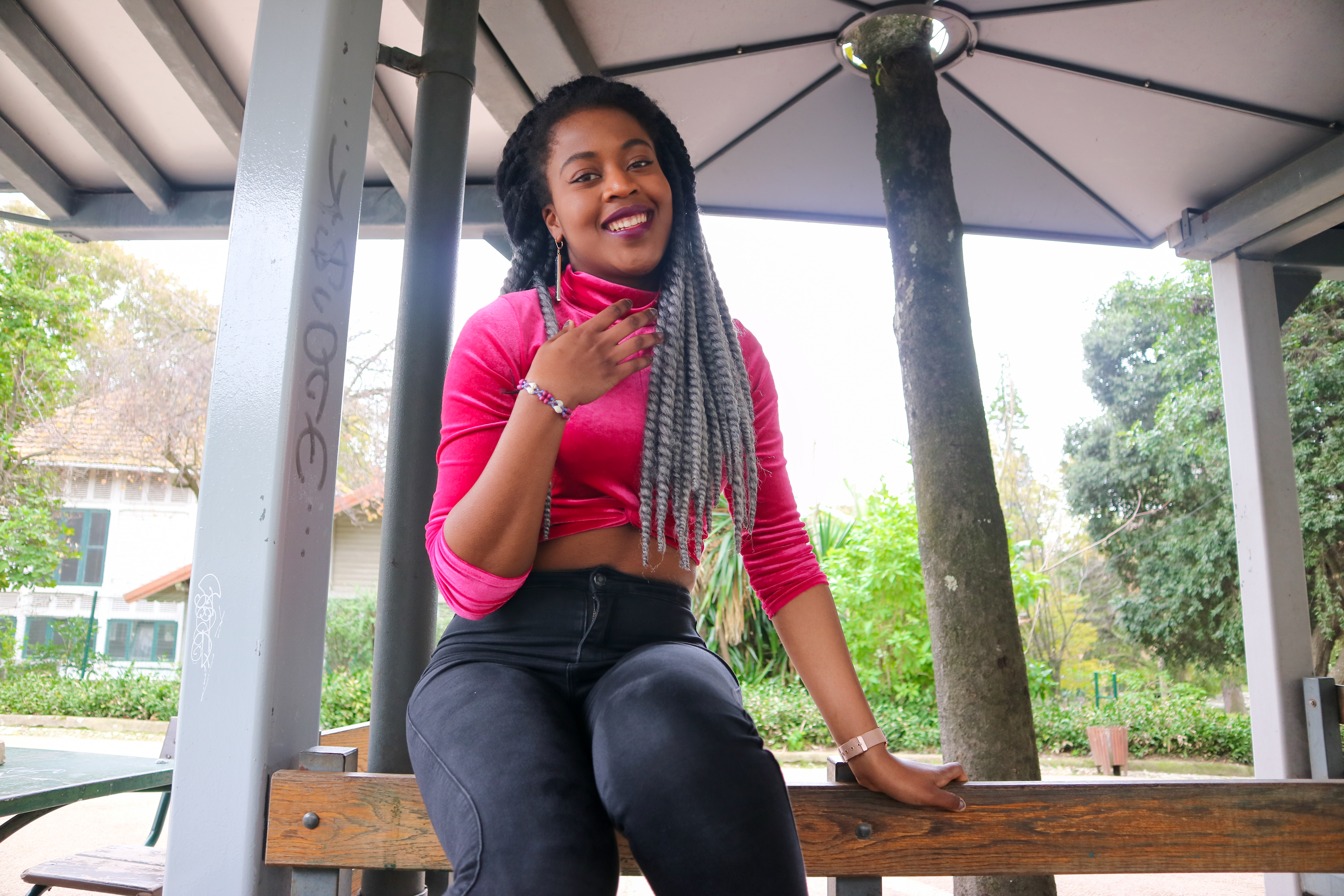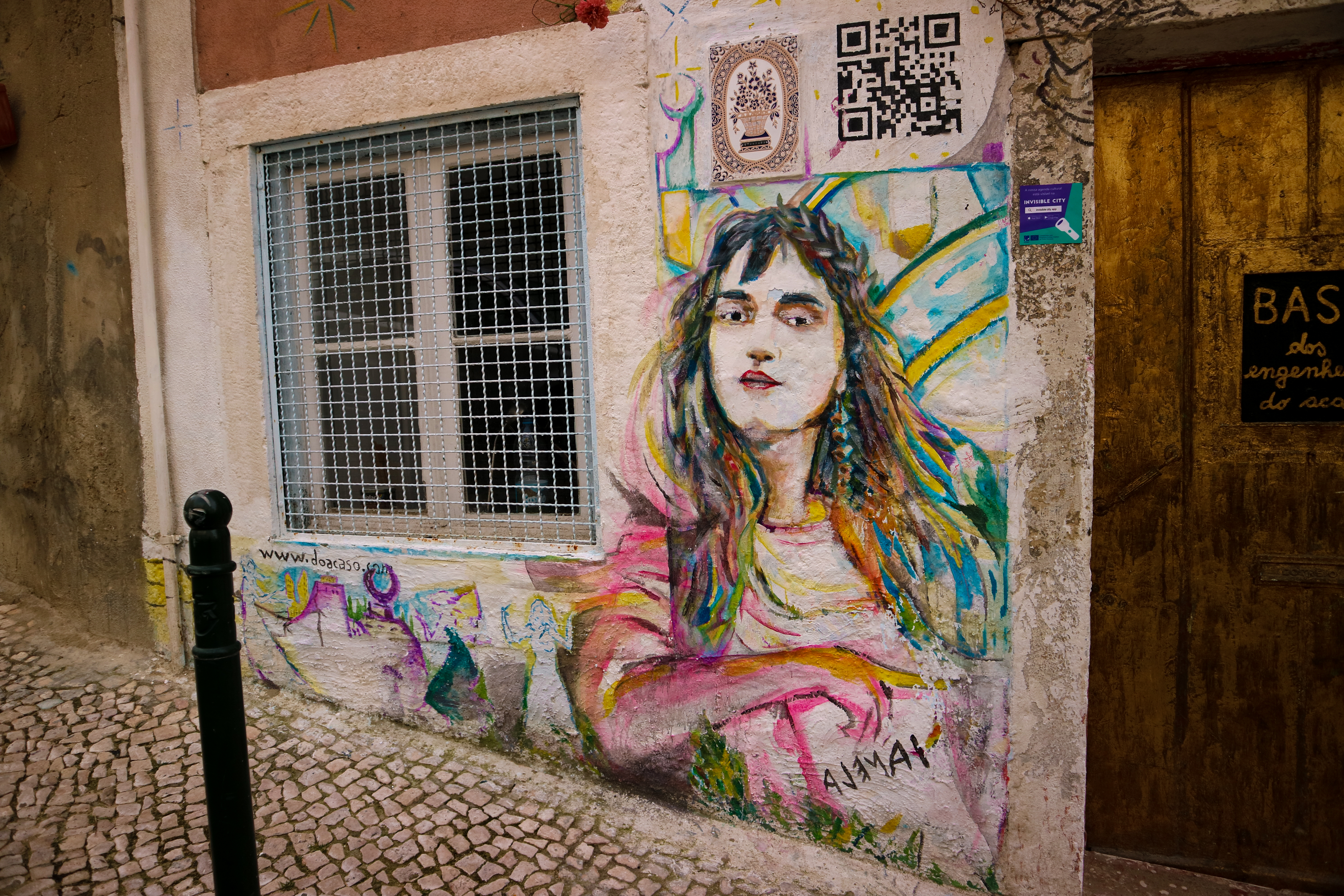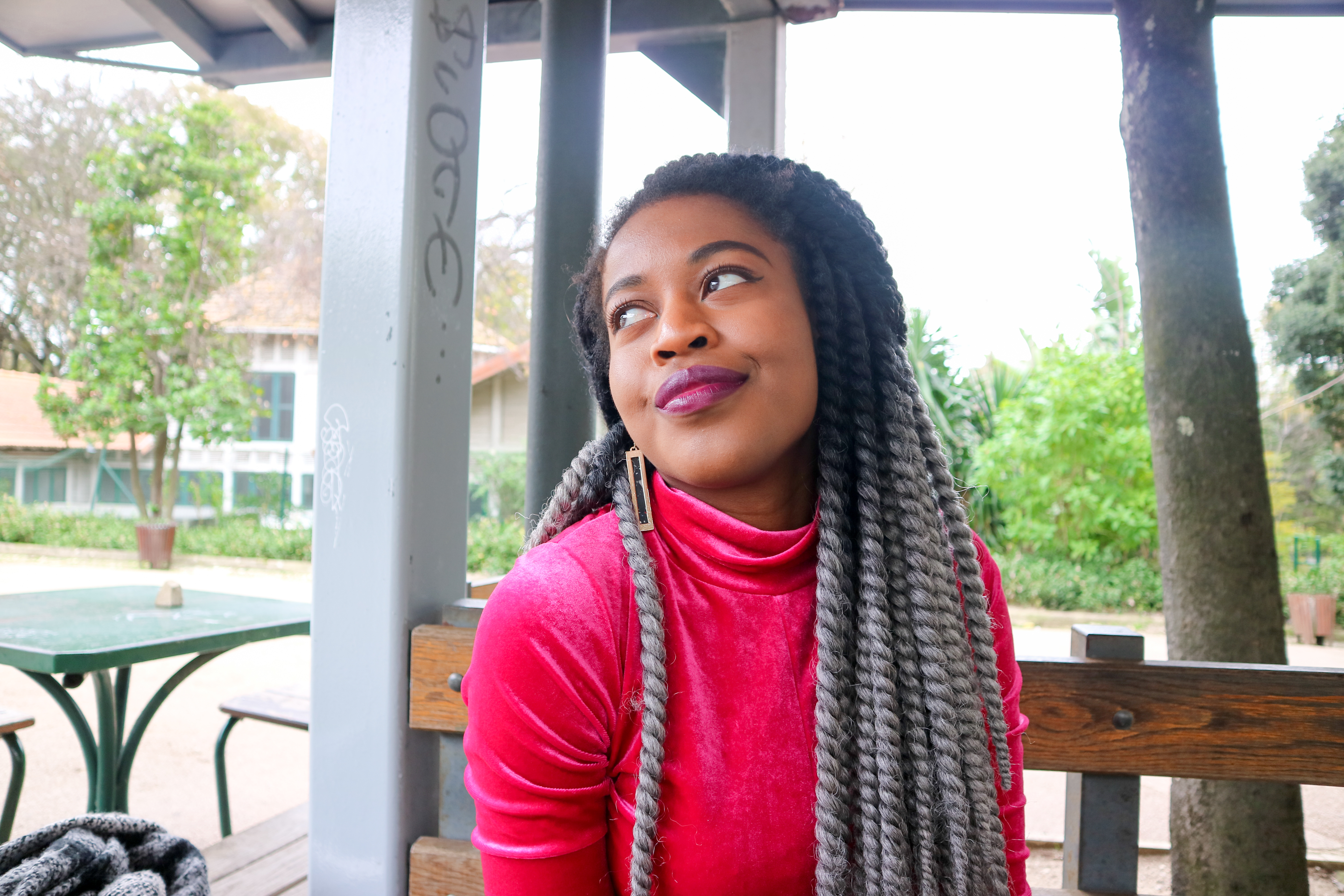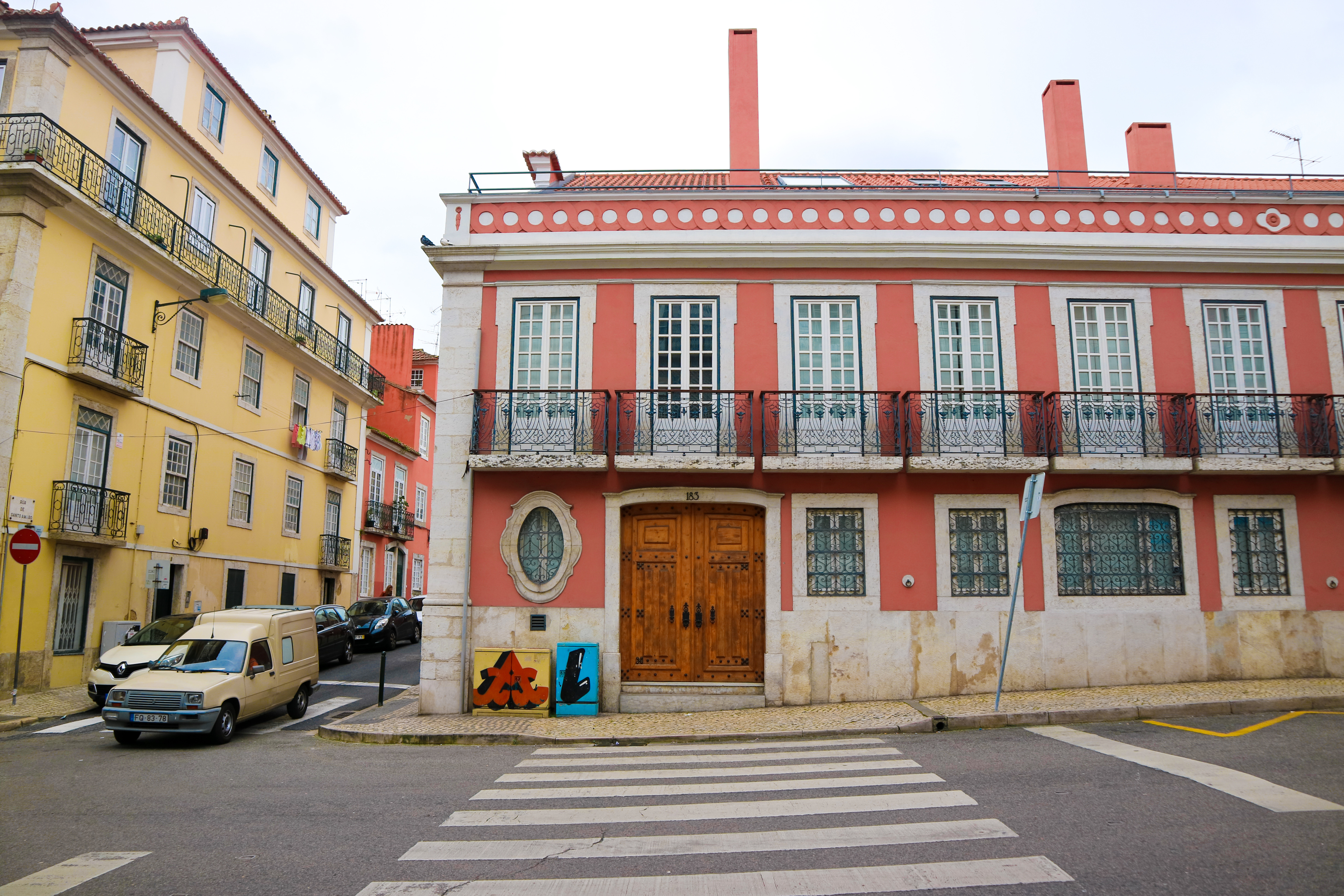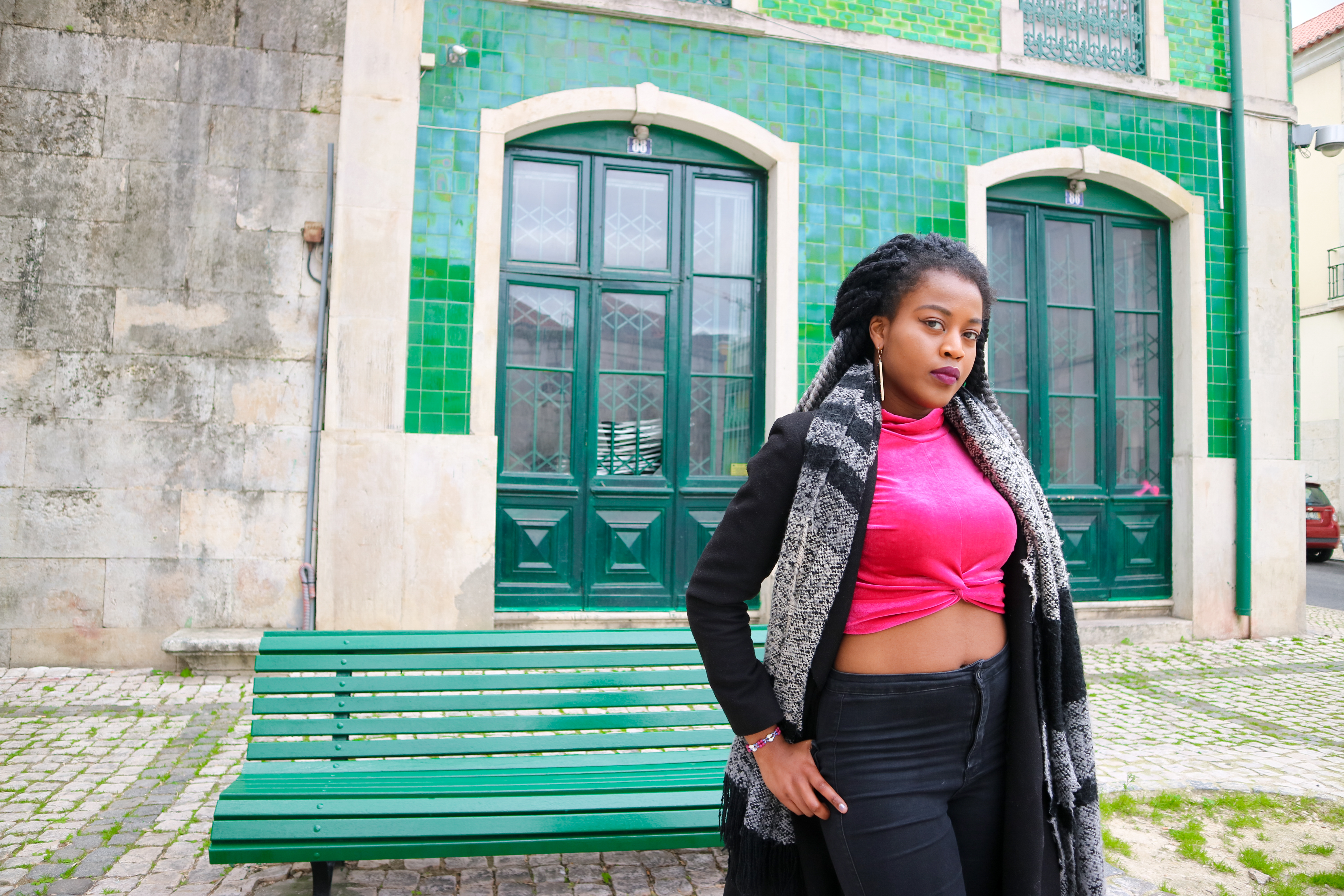 What was intended to be a nice little walk turned out to be a tiring workout and a half! You pretty much can't walk anywhere in Lisbon without climbing countless hills and going up and down endless stairs.
Every day in Lisbon is legs day!
By this point in the trip, my feet, shins, quads, thighs and even my bum were hella sore!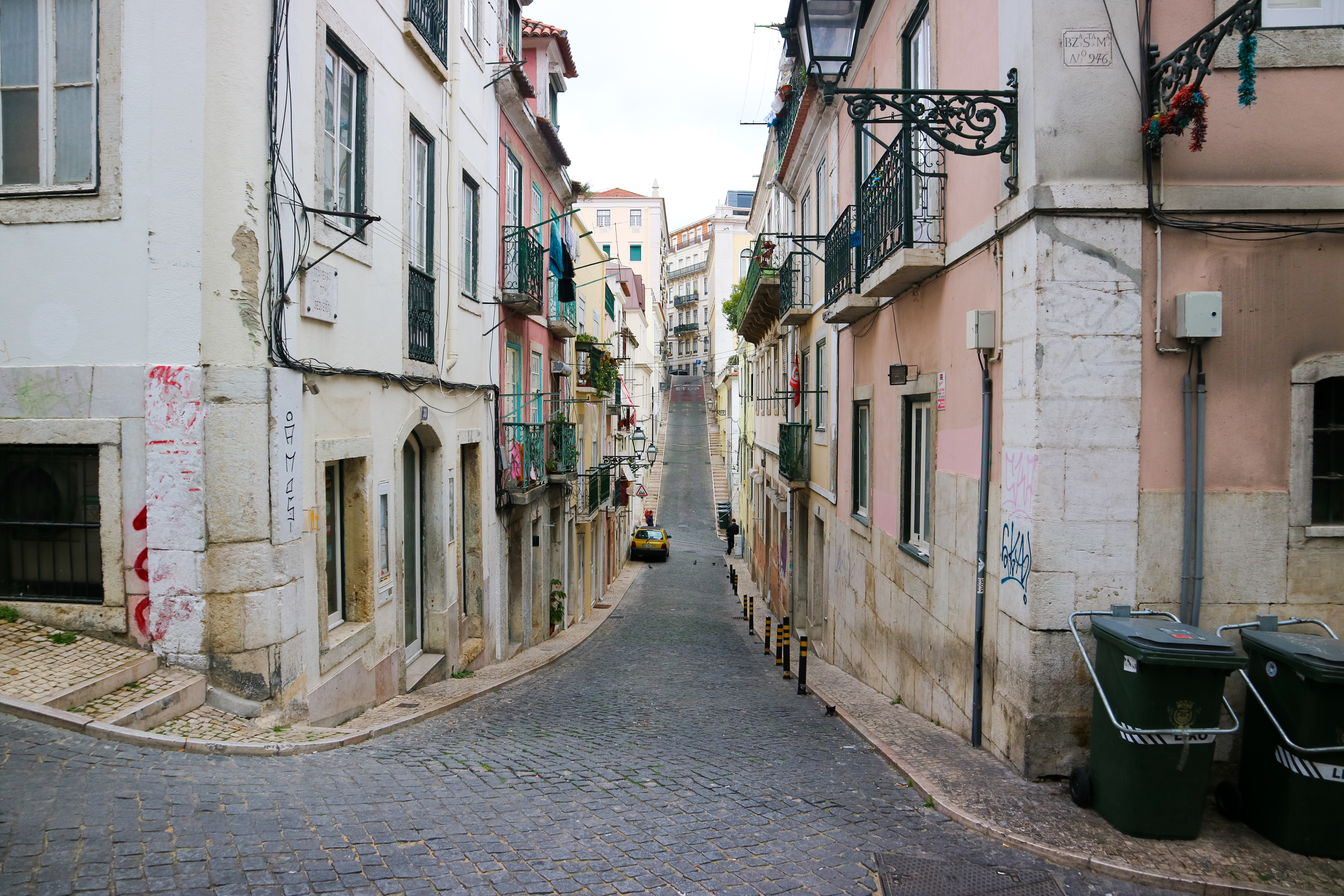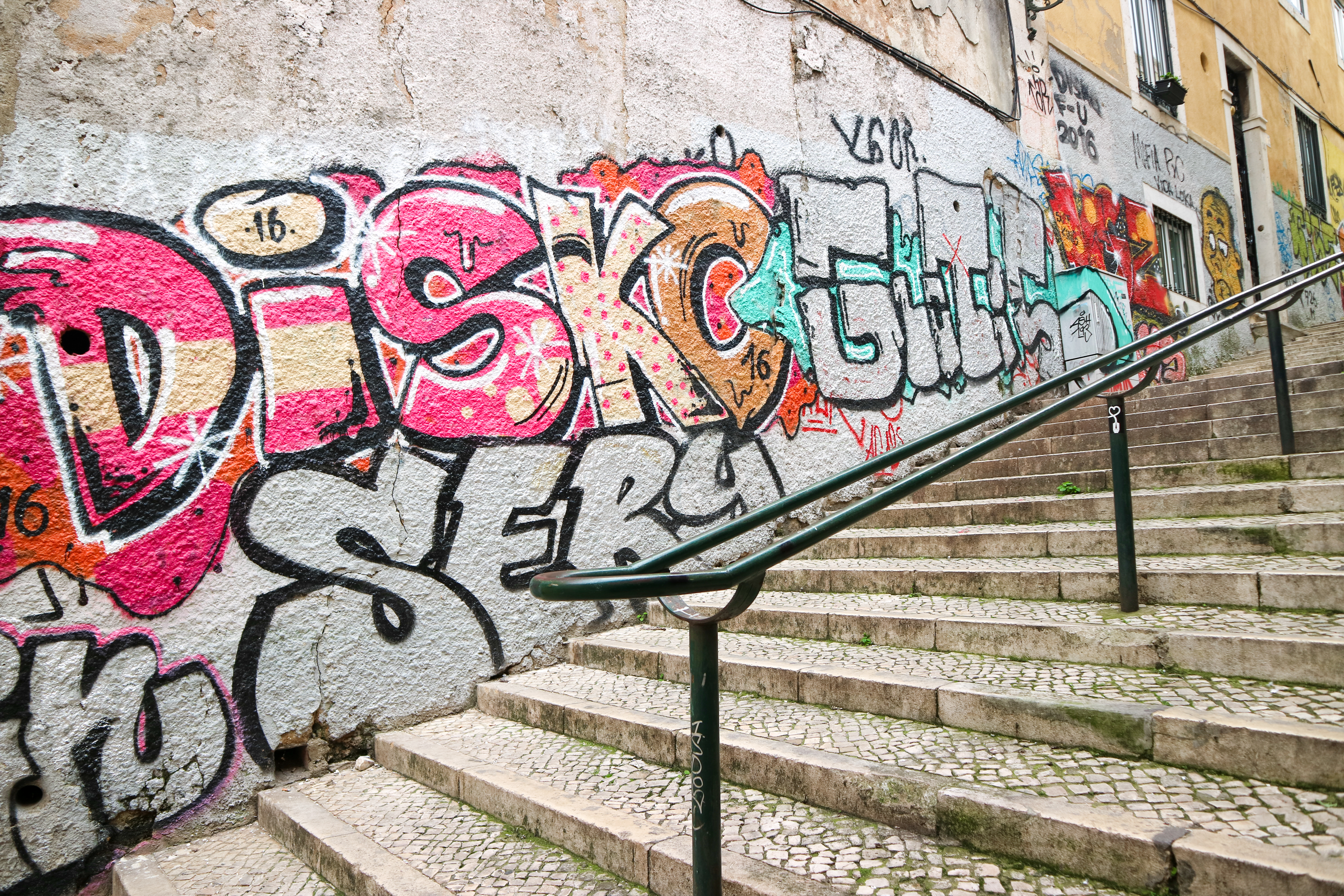 TRAVEL TIP: If you like to walk a lot when you travel, then comfortable shoes are a must!
Although I was extremely tired, I made the most of the time I had left in Lisbon. I got myself a few good pictures and a box of natas to take back to London with me. 😊
As I briefly mentioned above, I made a short little travel vlog of my time in Lisbon. It's a bit different from my previous travel vlogs, so please do check it out and let me know what you think.
Oh, and don't forget to like, comment, subscribe and all of that good stuff! I really love saying all this YT jargon! 😂
It's been a few weeks since I returned from my solo trip to Lisbon, and my obsession with the city has not decreased at all; if anything I am even more obsessed with the beautiful and vibrant city.
I plan to visit Lisbon again, hopefully soon.
TRAVEL TIP: If you plan on visiting Lisbon, check out this guide to Lisbon for everything you need to plan your perfect trip.
If I learnt anything from this trip, it is that I should stick to my preferred travel style.
When I solo travel, I like to take my time and not attempt to fit everything into a short timespan.
Because there was so much that I wanted to see in Lisbon, I tried to do it all and I found myself rushing from location to location, never being able to fully experience the beauty of Lisbon.
What is your preferred style of travel?
Have you been to Lisbon? Did you love it as much as I did?
If you haven't been, is Lisbon now on your bucket list?
Let me know in the comments!
Well, until next time guys!
Debbie✌🏾💛