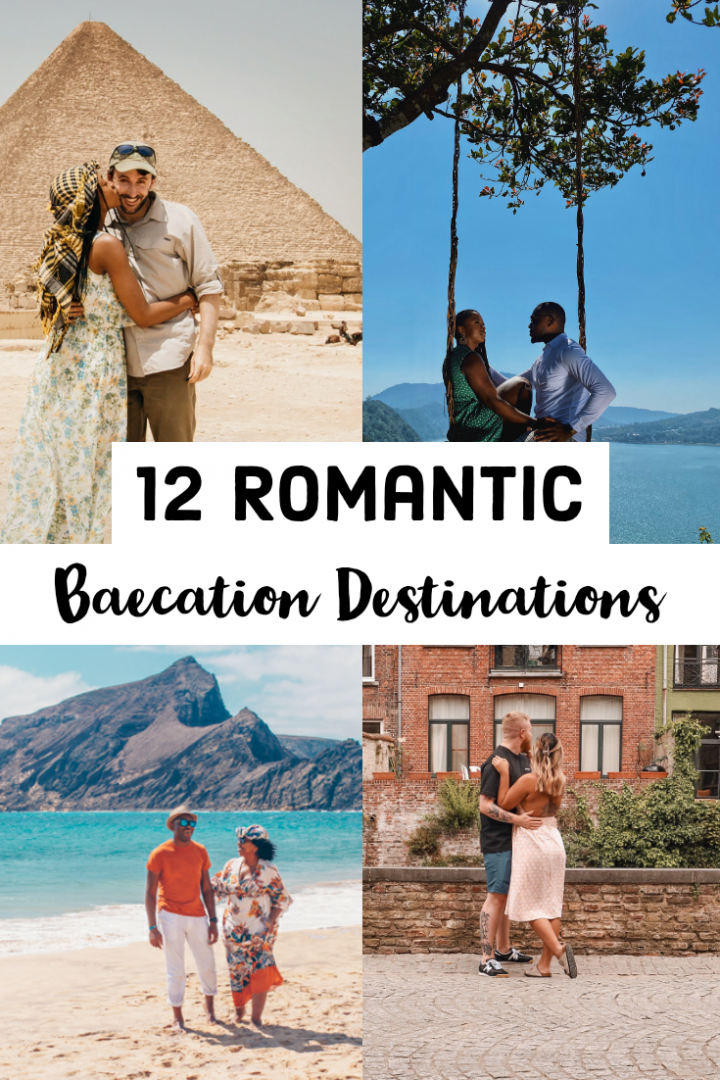 I've always been in love with the idea of being able to see the world with bae. You can really get to know someone by travelling with them and just having that one-to-one time away from your norm. Being able to live your best lives and create beautiful, life-lasting memories with your other half is everything!
So, I asked a few amazing Travel Content Creators to share one of their favourite baecation destinations. If you're looking for some inspiration for your baecation with your boo, check out this amazing list:

Bali
Vivienne recommends Bali
Bali is a paradise for every type of traveller. As the island of gods, it boasts of luxury villas, tasty food, immersive cultural experiences, adventure and a plethora of Instagram photo locations (think: gates of heaven). It truly has everything you are looking for and more.
Bougie travel on a budget tip:
For the couples looking to travel to Bali, you can rent private villas on Airbnb for as little as $50/day.
You can also get an hour massage in your villa for as little as $20. There are multiple spas of different costs around the island, so get your self-care on.
Find more from Vivienne on her blog

Hobart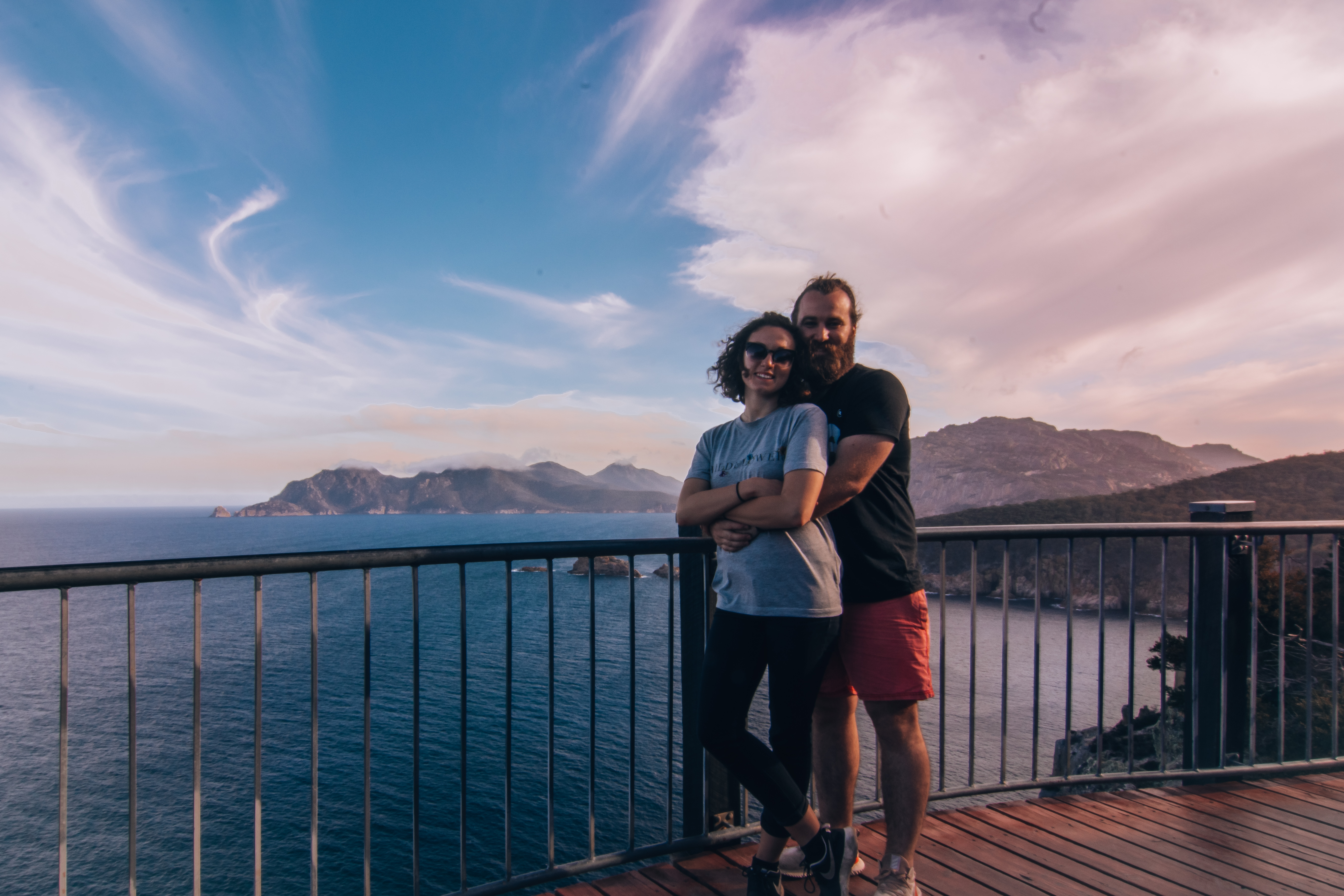 Tammy recommends Hobart
Hobart, the capital of Tasmania is a quaint and romantic destination for couples travel. There's fascinating history, beautiful Victorian architecture and a gastronomy scene (especially fresh seafood) that rivals the mainland.
You can easily just stay local and wander the harbourfront, check out Salamanca Market, visit stunning wineries or ogle at MOMA, one of the best modern art galleries in the world. For something more active, there are stunning natural wonders to explore together such as hikes to the aquamarine waters of Wineglass Bay or the wilderness of Bruny Island.
Life in Hobart is extremely tranquil for a capital city and a trip here always leaves myself and my partner feeling more in love with Australia (and each other!)
Bougie travel on a budget tip:
Probably one of my favourite things to do in Hobart is to have a posh picnic. We grab a picnic rug, a bottle of wine, some bread, cheeses and famous Tasmanian cherries and head out into one of the states' stunning national parks for a quiet, picture-perfect date day on a budget.
Find more from Tammy on her blog

Cappadocia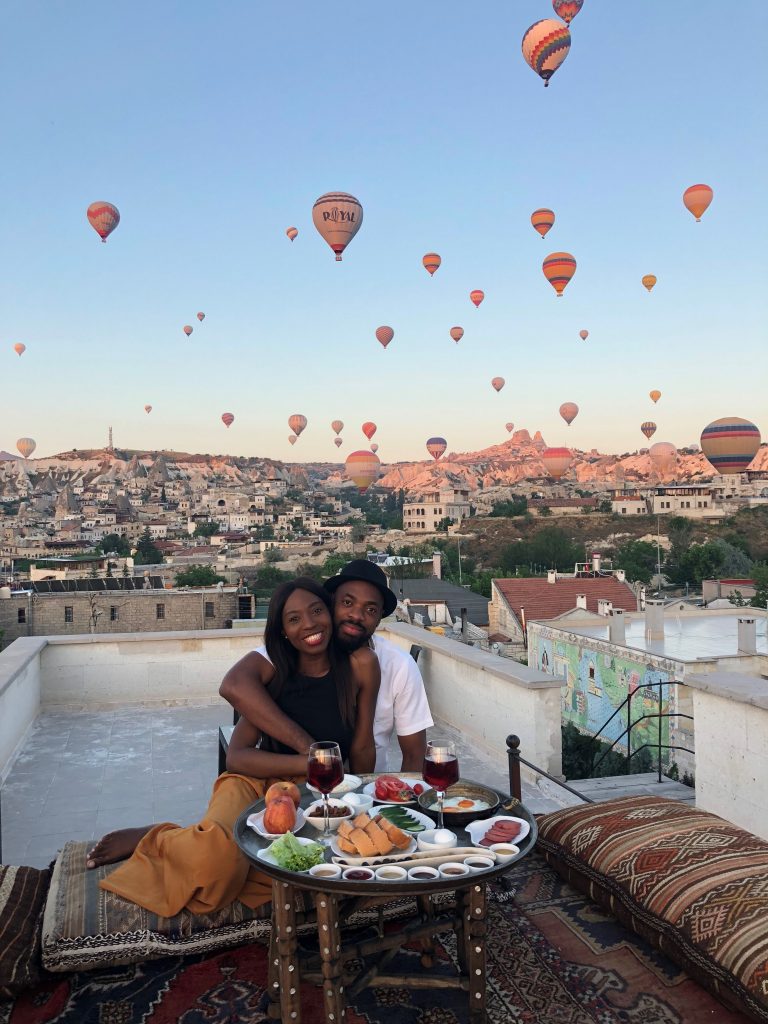 Bugo recommends Cappadocia
The most charming and magical little town, located in Turkey. From waking up early to catch the sunrise with the hot air balloons as its backdrop, to watching the sun set on fairy chimneys in one of its valleys, Cappadocia is guaranteed to give you the ultimate romantic experience of a lifetime.
Spending a romantic break in Cappadocia will completely have you thinking that you are in a Disney movie; you become Princess Jasmine and your partner is Aladdin. It helps that there is a massive carpet shop in its centre with thousands of (magic) carpets! It definitely is as dreamy as in online pictures and it is one city you have to see to actually believe.
Travel tip:
Do not compromise on your hotel. Cappadocia is known for its cave hotels which give a more special vibe to your stay; therefore, my travel tip is to book a cave hotel with a rooftop or balcony. This saves having to leave your hotel early to watch the hot air balloons at sunrise, you can just watch it from the comfort of your hotel.
Find more from Bugo on her blog

North Devon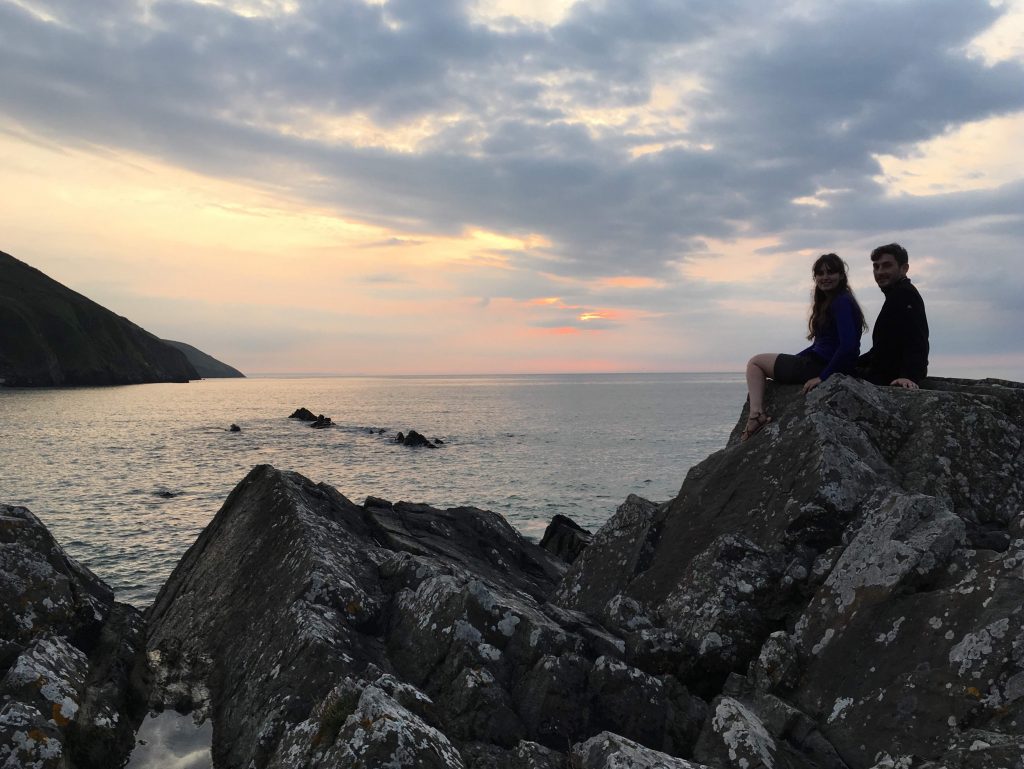 Gemma and Matt recommend North Devon
If you're after a bit of peace and quiet in the English countryside, away from the hustle of everyday life, then we would highly recommend a trip to North Devon.
Not only is it great for families but for an adventurous couple too. You can hike, cycle and surf to your hearts content all before settling down for the night watching the sunset roll in. Or if relaxing is more your thing, then find a spot on one of the many golden sand beaches, (we love Putsborough Sands), grab a book and have a sunbathe in British paradise.
We love to camp when we visit North Devon, to get right into the thick of living surrounded by nature, and with miles of stunning coastline to choose from, you will never be far from the sea. You can get up and go walking along the South West Coast Path to sitting in a café watching the world go by, cuppa in hand in a matter of minutes. Our particular favourite is an old boat, now café, in Watersmouth Bay, with wonderful views out to along the bay to the coast.
Travel tip:
And of course, you can't visit Devon and not treat yourself to a delicious afternoon tea or two! Even if you are camping this little bit of luxurious deliciousness is perfect after a few hours walking. Just make sure you do it the Devon way, cream then jam!
Find more from Gemma and Matt on their blog

Egypt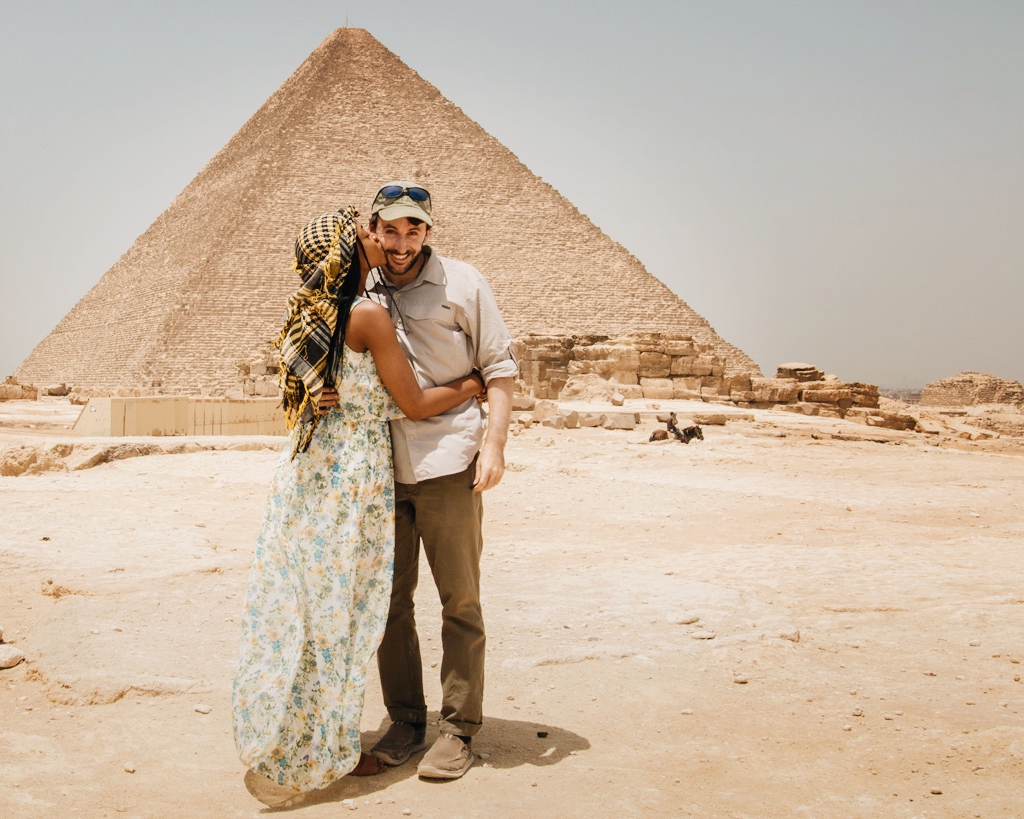 Amarachi recommends Egypt
There aren't many experiences that beat seeing an ancient world wonder with your significant other. Egypt offers this, (with its Pyramids & Temples) and so much more.
We spent three weeks travelling from the busy streets of Cairo to stunning beaches and reefs in Sharm el Sheikh and to the impressive open-air museums in Luxor. It was indeed an experience to remember for a lifetime!
Travel tip:
Travelling during the off-peak or shoulder periods gets you the best deals on accommodation, tours, etc.
Find more from Amarachi on her blog

Brugge
Nicole recommends Brugge
What can be more appropriate for a baecation than a romantic city waiting to be explored by you and your loved one? The capital of the West Flanders in Belgium, Brugge – it's one of the best places for a little weekend away with your partner, even if it's just an overnight stay. You will be enchanted by its beautiful canals and cobbled streets, as well as its architecture. Every street or little alley that you turn is very picturesque and you'll find yourself wanting a photo everywhere you go!
Besides the city's charming looks, the food is also a winner. By food, I mean chocolates, frites and waffles – specialities of Belgium so if you're a big fan of those goodies then all the more reason for you and your partner to visit. Did I mention beer yet? If you're into your ales then you'll absolutely love the beers too. A great part of the day is to be able to sit down, relax, have a beer and have a waffle (or two).
Travel tip:
You don't need to spend much money to experience the city. We did a day trip from Brussels via train and only spent 5 or 6 hours in the city. We were more than happy to just have a stroll around the city and it's canals, taking in the dreamy views it offers all around. Our money was mainly spent on food + drinks and a canal tour which I highly recommend.
Find more from Nicole on Instagram

Porto Santo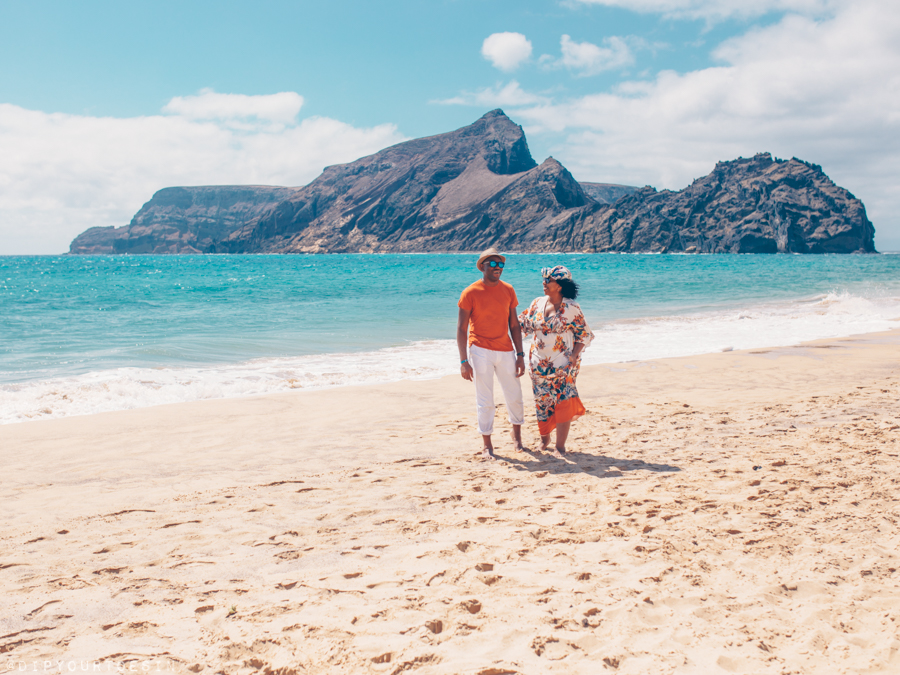 Eulanda and Omo recommend Porto Santo
The Portuguese island of Porto Santo is one of Europe's best-kept secrets. Home to just over 5,000 inhabitants, Porto Santo is one of the islands in the Madeira archipelago. This piece of paradise in the Atlantic Ocean is around 500 km from the coast of Africa and 1,000 km from Europe.
Couples looking for a romantic getaway will find an unspoiled tropical/volcanic island with year-round warm temperatures, 9 kilometres of golden sand and (depending on the time of year), peace and quiet away from tourist crowds.
Travel tip:
The best way to get to Porto Santo is to fly into Madeira. But here's the thing…Madeira itself is a charming tropical paradise. Go to Madeira for the food, culture and natural beauty and then head to Porto Santo by ferry for a relaxing beach and spa experience.
Find more about Porto Santo on Eulanda and Omo's blog

New York
Alice recommends New York
New York is one of my favourite cities in the world and definitely makes for a wonderful getaway with your significant other. It's one of those places that can cater to anyone, whether you prefer a quiet drink in a bar or a boogie at a live jazz show!
From a candlelight dinner cruise underneath the Manhattan skyline to a picnic in Central Park, New York can be a really romantic city. One of my favourite things to do was to go for cocktails or bubbly at the top of the One World Observatory whilst watching the sun go down. Trust me, sunset over the city is unforgettable!
But, as well as the more obvious romantic things to do in New York, if you're a more adventurous couple, or not looking to spend loads of cash, the city still makes a great escape. People don't realise just how affordable the city can be but it's easier than you think to visit New York City on a budget!
Bougie travel on a budget tip:
Why not explore the High Line, walk the iconic Brooklyn Bridge or take a trip to Bronx Zoo? Two of those attractions are free and, if you know-how, you can actually visit the Bronx Zoo, and over 40 other top attractions for free as well! Then, with all the extra money you've saved on things to do, splurge a little bit more on accommodation and buy an incredible hotel room overlooking Times Square.
Find more on how you can do New York on a budget on Alice's blog

Disneyland Paris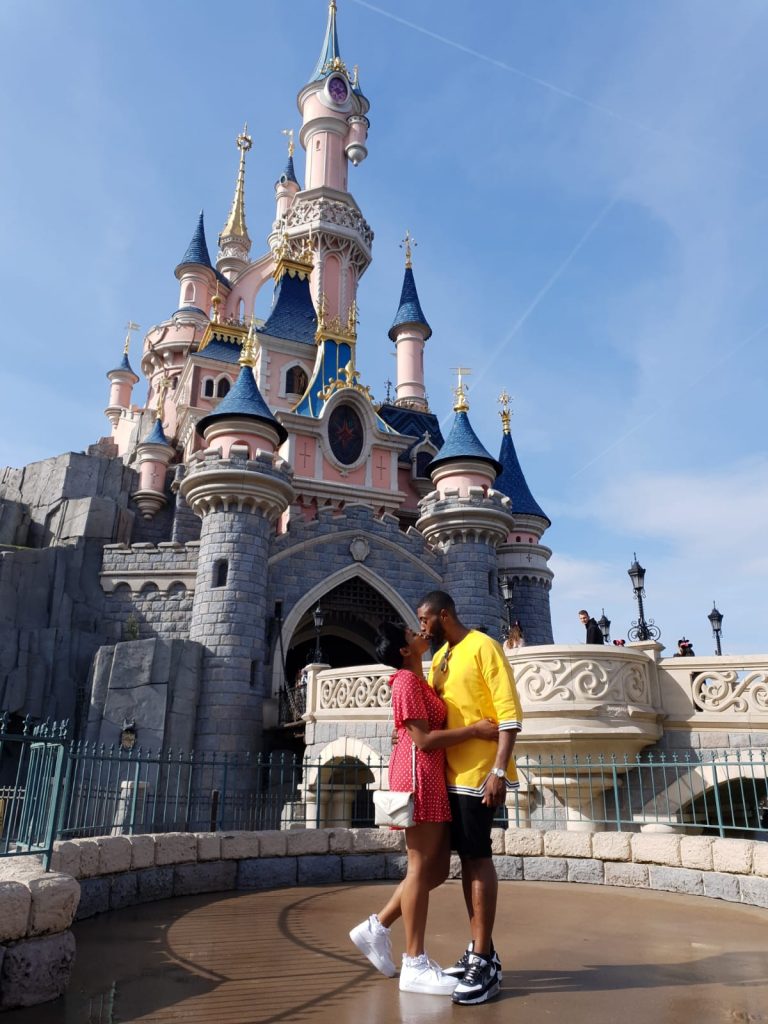 Adebola recommends Disneyland Paris
Disneyland Paris is always a good shout for couples. It consists of two parks, Disneyland Park and Walt Disney Studios Park. Disneyland Park is the park everybody has heard of and should go to – it has the castle, which is amazing for a cheeky kiss in front of hahah!
Walt Disney Studios Park, on the other hand, has a more general moviemaking theme, but it's still very Disney. Everything looked and felt terrific. I was dressed for the occasion as always – like Mickey Mouse hahah.
Bougie on a budget tip:
If you would like to do a weekend in Paris and Disneyland for you and le bae for under £200, check out Super Escapes.
Find more from Adebola on her blog

Dubai
Michelle recommends Dubai
Many people know Dubai as the city of audacious and gold architecture, yearly hot weather, the amazing beaches and where the 1% go to relax. What many don't know and what I soon realised during my trip is that Dubai is a great place for any couple.
The UAE, but more specifically Dubai, has a stigma of being a very conservative, where couples are not allowed to hold hands, stay in the same hotel and where women are forbidden to show parts of their body. This couldn't be far from the truth and I will even rock the boat and say it is one of my favourite baecation spots EVER (I'm sorry Paris).
From romantic private yachts (which can be inexpensive), relaxing at beach clubs like the 5 Palm Jumeriah to romantic strolls watching the Dubai fountain show, Dubai couldn't be more perfect for my recent anniversary trip. If you're not visiting Dubai for the tallest building in the world or for the worlds only 7-star hotel then its a must for the romantic Souk Madinat, where couples can take a Venice esk boat tour around the Burj Khalifa and famously known restaurants like Pai Thai. Beach by day and city by night, Dubai has something for everyone.
Bougie travel on a budget tip:
Book all activities before arriving using Groupon/Instagram recommended companies and if travelling with your other half definitely group your money together.
Find more from Michelle on her YouTube channel

Phuket
Tee recommends Phuket
When people hear about Phuket, they think of beautiful beaches, partying, and pad thai. While travelers to Phuket can experience all of those things, Phuket does have a softer side to it. Phuket can be an extraordinary place to spend time with a lover, permitted you leave the tourist area of Patong, and head to Karon beach, an idyllic and secluded beach just 10 minutes down the road.
Karon beach is home to many forms of accommodation ranging from a conscious pocket to a luxury pocket. In Karon, there are beach-front resorts and resorts within a 5-minute walk to the beach. This place is relatively unbothered because so many people are caught up with the flash of the more famous beach up the coast. Down by Karon, you can find nearly private beaches, spas, excellent Thai food, and solace within a city that's known for partying.
Bougie travel on a budget tip:
Travel during the rainy season. The rainy season technically starts in May but doesn't get genuinely terrible until the end of June. By visiting Karon beach in mid-May, the beginning of the rainy season, I was able to find a room at a 4-star hotel for 60% off the hotel's regular pricing.
Find more from Tee on her blog

Croatia
Suzy recommends Croatia
For a stunning, idyllic getaway with your beau then look no further than Croatia. Jam-packed with historic cities that ooze aesthetic charm and beaches that will allow you much-deserved R&R time, you can't go wrong. If sightseeing around the city isn't your style, then escape to one of the many islands for some privacy. Or maybe the wonders of the outstanding UNESCO national parks will have you exploring a haven of nature with your partner.
No matter where you go in Croatia, you'll be sure to enjoy quality time together in a setting so beautiful you'll never want to leave!
Travel tip:
A great way to save money while travelling in Croatia is to avoid eating out every night – especially in expensive areas like Dubrovnik. Instead, take home a doggie bag from your meal out (pizza is a great option!), pick up some supermarket wines/beers, and head out for a picnic! You can save a lot by making use of the cheaper grocery stores and bakeries for your favourite treats at half the price but still enjoy the luxurious dinners by saving some for later. If you're travelling along the coastline, you should definitely take an evening stroll and find a spot to watch the incredible sunsets to add an extra touch of romance to your BYO dinner.
Find more from Suzy on her blog

Well, that's it guys!
I hope you found a few ideas for your next baecation destination! If you need some more inspo, check out my post on 10 bougie on a budget baecation ideas.
What are your favourite destinations from this list? And let me know what are your top three bucket list destinations for a baecation.
Pin for later x