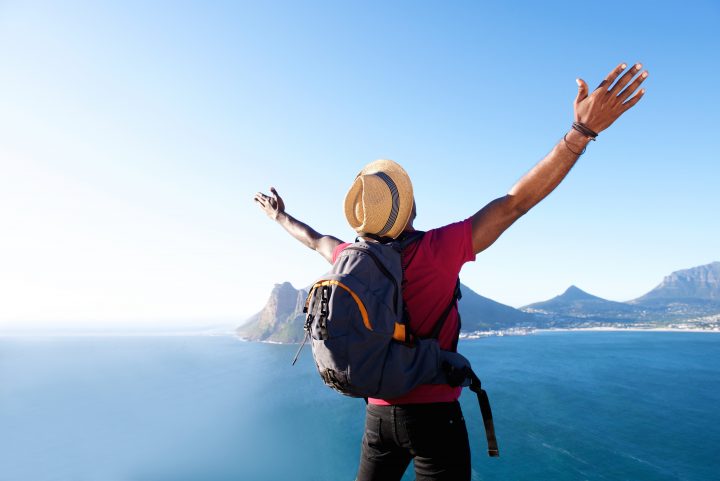 The travel industry very often seems to forget about the Black traveller. We rarely if ever see ourselves represented or considered. And while some may believe that Black people don't travel, we are out here catching flights (pre-COVID 😭), seeing the world and changing up the game.
There are so many inspiring Black people in the travel industry who are playing a huge part in the Black travel movement and leaving their mark on the travel industry, so it was very difficult to only highlight a few.
However, these 15 individuals are people you need to know when it comes to Black travel. They are changing the way people think about travel, inspiring others to travel and playing a huge part in making travel more inclusive for Black people.
So here are 15 inspiring Black people in the travel industry:
Marty Sandiego – Diversity in Travel Consultant
Yes, it's 2020 and we're still talking about "diversity" and "inclusion". Unfortunately, even though travel is all about experiencing other cultures, the industry still has a lot of work to do in terms of diversity.
That's where people like Marty come in. Marty is not afraid to be vocal when others may find it easier to be silent. She challenges brands and all of us to be more aware, to do better and to stand up in this fight for diversity.
Marty is here for everyone. From the Black traveller who is tired of fearing how they will be received in another country to the disabled traveller who feels like their needs are rarely if ever considered. Everyone should feel able to travel.
Marty is also one of the founding members of the Black Travel Alliance. Their mission is to hold travel brands and destinations accountable for their lack of diversity.
At the end of August 2020, Marty will be releasing her ABC Travel Green Book. This book is a resource for the Black traveller and it aims to globally connect the African diaspora. Within this book you will be able to find Black communities, restaurants, tours, festivals, and more in six out of seven continents.
Marty is doing amazing things in this industry! So if you don't know about her, get to know.
Cheraé has been named one of the 10 Emerging Women Entrepreneurs in Africa and a "Woman to Watch" by the United Nations Foundation and Innov8tive Magazine.
Noticing a need for more experiences that give travellers a more in-depth insight into Africa's rich and varying culture and history, the idea of Tastemakers was formed in 2014. Cheraé saw the opportunity to help change the negative narrative of Africa and to offer authentic and creative experiences.
Tastemakers Africa helps to provide thousands of travellers visiting the continent with a platform to find a range of unique tours that are created and hosted by artists, creators and makers. You could find yourself doing a batik making workshop in Accra. walking through the streets of Medina in Dakar as you take a street art tour or even paragliding from Signal Hill in Cape Town

Woni Spotts and Jessica Nabongo – Black women that have travelled to every country and continent in the world
These days, if you don't post something on social media, did it really happen? Of course, it did, but when it comes to proving a claim like being the first Black woman to travel to every country in the world, it can make it quite difficult when you have little to no social media presence. This was the case when Woni Spotts claimed that she was the first Black woman to do so.
This caused a lot of controversy within the Black travel community, as well known travel blogger Jessica Nabongo publically shared her journey as she worked towards her goal of being the first Black woman to travel to every country in the world.
Despite all the drama, both women have achieved an amazing accomplishment that will continue to inspire many Black travellers. Despite not being seen and considered by a number of travel brands, Black people really do travel!

Phil Calvert – First Black man to have a travel show on Matador Network
Phil Calvert AKA Philwaukee is a travel content creator. Even though travelling as a Black man is unfortunately not always a positive experience, Phil is a promoter of positivity and tries to change the negative stereotypes of Black men while he travels.
Phil is the first Black man to have a travel show on Matador Network. Check out his show for his hilarious personality and his many interesting encounters with the locals.

Kellee Edwards – first Black woman with a show on the Travel Channel
According to the Conde Nast, Kellee Edwards is "one of the most powerful women in travel".
As an adventure travel journalist who is also a licensed pilot and an advanced open water scuba diver, Kellee challenges the stereotype that Black people don't do adventurous activities. Kellee is continually challenging such stereotypes and changing the narrative around Black adventure travel.
She is the first Black woman (and the second woman) to host a show on the Travel Channel. Mysterious Islands is a series that explores remote islands across the world, many of which most viewers will likely never have heard of.
Evita Robinson created the Nomadness Travel Tribe in 2011, the first ever digital community for Black and Brown millennial travellers. Over the years, this tribe has grown substantially and there are now over 23,000 members across the world with over 100,000 passport stamps.
Not only has Evita created this engaged global community of Black and Brown travellers, but she also created Audacity Fest, the first festival created specifically for Black and Brown travellers. Audacity Fest celebrates the travels of Black and Brown travellers, as well as providing a safe space to have conversations about travelling as a person of colour. Throughout the festival, there are panels with industry experts and amazing Black travel bloggers, fireside chats, music and break off sessions.
Past festivals have been held in Oakland and Memphis. 2020's festival was meant to be held in New York, but due to the coronavirus, they instead had two separate one-day digital festivals.
Jeff is the founder of Chubby Diaries, which is an online community for plus-size travellers who have a love for travel.
This community was created to empower plus-size travellers and to help make their travel experiences a little easier by sharing travel tips and the experiences of other plus-size travellers. Jeff also crafts custom trips for his followers and last year he organised a sold-out group trip to Bali.
Alongside Marty, Jeff is another one of the founding members of the Black Travel Alliance.
Sheila Johnson is the CEO and Founder of Salamander Hotels and Resorts, with luxury hotel properties across the USA and one property in Montego Bay, Jamaica.
As the first African American woman to reach a net worth of at least one billion dollars, Sheila is an inspiration to both Black hotel owners and entrepreneurs.
Sheila is also widely known for co-founding BET with her ex-husband in 1979. They sold the company to Viacom in 1999.
Travel Noire is one of the earlier brands that was created in support of the Black travel movement. Zim is the founder and former Chief Executive Officer of Travel Noire, an award-winning boutique travel company that was founded in 2013.
Travel Noire showcases the Black travel experience, inspires more Black people to travel and gives them the tools and knowledge that they need to get out and see the world.
With Travel Noire, Zim became a 30 under 30 Forbes awardee.
In 2017, Zim sold Travel Noire to the Black-owned media company, Blavity. Zim now works with her husband in the acquiring, growing and selling of small online businesses. She is also the host of the Bloom Podcast, a faith-based podcast that was created to help women in every season of their journey through life and faith.
Jamie Lee Abtar is a business development strategist and travel marketer who shares her knowledge of working with destinations and travel brands. This year, she was appointed to the position of Executive Director of BAME Women in Travel, where she aims to encourage and empower women in the travel industry to reach their full potential.
Throughout the lockdown, BAME Women in Travel hosted free "Lunch N Learn" sessions, with various established speakers sharing their expertise and advice.
BAME Women in Travel have also recently launched their Corporate Partnerships, in which they will be working with brands to increase the level of BAME inclusion in the workplace.

Oneika Raymond — travel journalist, writer and host of two Travel Channel series
Oneika is one of the OG Black travel bloggers. She started her travel blog while teaching in international schools in London, Hong Kong and Mexico. Oneika's blog is her space where she examines travel through the intersections of race, politics and privilege.
In 2018, she was awarded a gold medal for Best Travel Blog in the SATW Lowell Thomas Travel Journalism Competition.
However, Oneika isn't only known for her award-winning travel blog, she is also a talented writer and has written for a number of publications including Condé Nast Traveler, Oprah Magazine and Ebony Magazine. She is also a lifestyle correspondent for NBC New York and the host of two Travel Channel series: Big City, Little Budget and One Bag and You're Out.

Lola Akinmade Åkerström – one of few Black Women Photographers for National Geographic
Lola is an award-winning Nigerian photographer, travel writer and author based in Sweden. She describes her work as being characterised with vibrancy and hope as she explores culture through food, tradition and lifestyle.
She has appeared in a number of major publications including National Geographic Traveler, Travel + Leisure, Travel Channel, Lonely Planet and Forbes.
Lola is the editor-in-chief of Slow Travel Stockholm, which encourages travellers to explore Stockholm slowly and she is the founder of Nordic TB Collective, a network for travel bloggers and digital storytellers from Sweden, Finland, Norway, Denmark and Iceland.
Lola is also an amazing and empowering speaker. I had the pleasure of hearing her speak at the Women In Travel Summit in Latvia in 2019, and what she said on that day still resonates with me today.
I nearly didn't include this one, because yes, that's my face lol. But you gotta plug yourselves sometimes sooo 🤷🏾‍♀️
Adebola and I created Black Travel Creators, a global community for Black travel content creators. We want to give Black creatives the skills, knowledge and opportunities that they need to succeed. We plan to work with travel brands and destinations to connect them with talented Black travel content creators and to help tackle the lack of diversity within the travel industry.
Earlier this year, we were named by TTG as two of the 30 under 30 Travel Leaders of Tomorrow! I'm still pinching myself y'all! I'm so grateful to everyone who ha supported mine and Adebola's vision for Black Travel Creators, especially Jamie-Lee Abtar who nominated us for this programme.
I've also recently been interviewed by Contiki about my travels, my blog and Black Travel Creators.
Keep your eyes out on Black Travel Creators on Twitter and Instagram.


If you enjoyed this blog post, check out my post where I share 10 Black travel Instagram pages that you need to be following!
Pin for later x