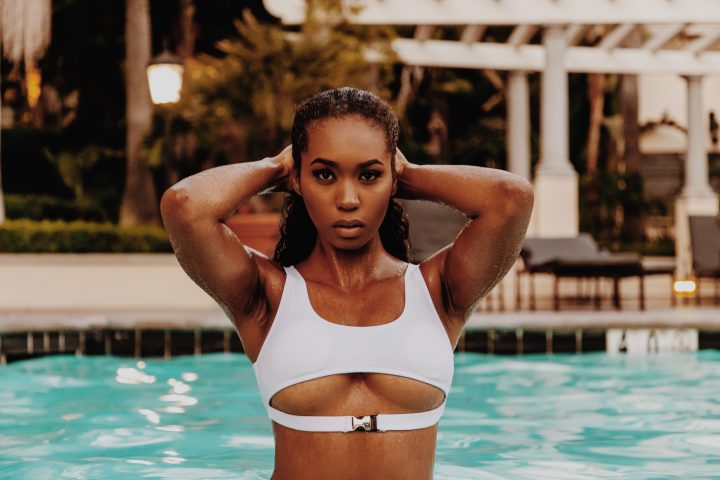 There are so many Black-owned swimwear brands that are doing thing! Creating a list of just 25 was hard!
But y'all here are 25 stunning and unique Black-owned swimwear brands that you need to check out:
1. BFYNE
BFYNE was created by Nigerian-American, Buki Ade with the motto to unleash the wearer's inner Fynebabe.
The bold, colourful and unique swimwear will have you standing out in a crowd. And I don't know about you, but I'm not trynna blend in when I'm on holiday!
Check out BFYNE: Instagram | Website

2. Asherah Swimwear
Owner and designer of Asherah Swimwear, Cheryl "Cejae" Jones, uses her graphic design background to create one of a kind statement prints.
Cejae created this bold and colourful brand for the woman who exudes confidence.
Check out Asherah Swimwear: Instagram | Website

3. L'aviye
Laviye is a brand I've been obsessed with for a while, they are an African clothing brand. Other than swimwear, they sell a range of products including dresses, shoes, bags and menswear.
The brand was created to invoke a sense of pride in African culture. The designs are a fusion of African prints and western silhouettes.
Check out Laviye: Instagram | Website

4. 1001
It's the pastel colours for me!
1001 is a Miami-based swimwear brand that was created for women who are bold and want to turn heads, whether that's at the pool or at the beach.
Check out 1001: Instagram | Website

5. Reign Swim
Reign Swim is made by fuller bust women for fuller bust women.
It's a brand that celebrates women with fuller busts and aims to empower them to feel unapologetic, comfortable and confident when at the beach or at a pool.
Reign Swim is available for purchase both on their website and on ASOS Marketplace.
Check out Reign Swim: Instagram | Website

6. Marcia B Maxwell
Marcia B Maxwell (AKA MBM), was founded by Marcia Maxwell, a self-taught designer.
Marcia was able to create these stylish and unique designs by combining her love for structured designs and clean lines with swimwear.
Check out Marcia B Maxwell: Instagram | Website

7. Shweshwekini
Shweshwekini was founded and designed by my girl Mapitso, who is not only a designer but also an occupational therapist.
Shweshwekini is inspired by Seshoeshoe AKA shweshwe, a printed dyed fabric that is used in some traditional South African clothing. Mapitso created a swimwear brand that showcases the beauty of her country's traditional fabric, while also educating people around the world about her culture.
Check out Shweshwekini: Instagram | Website

8. Castamira
Castamira describe themselves as the evolution of conscious luxury.
The brand uses eco-friendly fibres and green packaging to reduce its impact on the environment.
Castamira was founded by former model Chantel Davis who struggled to find high-quality swimwear that accentuated her curves, so she created her own. Castammira is influenced by the 70s and 90s aesthetics and the designs aim to elongate your legs and embrace your curves.
Check out Castamira: Instagram | Website

9. Koko D. Swimwear
Koko D. was created by Tamara Cummings. The brand's swimwear is influenced by Tamara's Caribbean heritage and it is bold, colourful and with abstract designs that stand out.
It is swimwear that is created for glamorous and confident women.
Check out Koko D. Swimwear: Instagram | Website

10. ÖFUURË
ÖFUURË is an award-winning African fashion label that sells a range of products with beautiful, unique and vibrant colours and prints.
The brand gets its name from the Ishan word Ofure, which means "it is well" from Edo state in Nigeria.
Check out Ofuure: Instagram | Website

11. Riot Swim
Riot Swim is a luxe, minimalistic swimwear brand that was founded by model Monti Landers.
The LA-based brand has everything from high-waisted bikinis to beautiful ruched one-piece swimsuits that leave you feeling gorgeous and confident.
Check out Riot Swim: Instagram | Website

12. Ashanti Swimwear
Ashanti Swimwear is an African print swimwear brand that is based in the UK. It was founded by brother and sister, Dexter and Yasmeen Opare.
The brand's swimwear uses Kente and Ankara prints and each swimwear line tells the story of the Ashanti Kingdom and teaches people about Ghanaian culture.
The Kente print that they use includes green which means good health and growth, red which signifies spirituality and sacrifice and gold which means wealth.
Check out Ashanti Swimwear: Instagram | Website

13. Andrea Iyamah
Andrea Iyamah was created by Nigerian fashion designer Andrea Iyamah with the vision of embracing cultural stories through the designs of her brand. The designs are inspired by colour, African cultures and nature.
The brand operates out of Lagos, New York and Toronto.
Check out Andrea Iyamah: Instagram | Website

14. Sian Marie Swimwear
Sian Marie Swimwear was founded by the UK Apprentice 2018 winner, Sian Gabbidon.
Sian designs the swimwear herself and uses a variety of reversible and multi-way styles, as well as stunning hand-drawn prints that embody a sense of confidence.
Check out Sian Marie Swimwear: Instagram | Website

15. XhaleSwim
Jessica Wong is the founder of XhaleSwim which was designed to cater to all women and has varying styles from conservative to a bit more risqué.
XhaleSwim's swimwear are one of a kind pieces and they are all handmade by a seamstress based in Miami. Their pieces are reversible and one-shoulder pieces can be worn on both the left or the right.
Check out XhaleSwim: Instagram | Website

16. Avid Swim
Avid Swim is a sustainable luxury swimwear brand created by designer, Gionna Nicole.
The brand is known for its beautiful, bold graphic prints and its creative cuts. They describe the style of the brand as "sexy, sporty and chic".
Check out Avid Swim: Instagram | Website

17. Crown Rose UK
Crown Rose is an Afro-contemporary swimwear and loungewear brand that is based in the UK.
They create beautiful swimwear with traditional African prints that showcase the rich culture of the continent, while also using simple but captivating British styles. They describe this fusion as "where tradition meets contemporary".
Check out Crown Rose UK: Instagram | Website

18. Elicit
The definition of elicit is "to evoke or draw out a reaction from someone" and this is what the brand Elicit aims to do.
With their bold and vibrant pieces, Elicit makes a woman stand out in the crowd and feel confident and sexy in her own skin.
Check out Elicit: Instagram | Website

19. Keva J Swimwear
Keva J Swimwear was founded by Keva J who created a brand that delivers unique and unconventional styles for the modern-day women.
Keva J differentiates her swimwear brand by avoiding mainstream trends and instead creates her own unique fashion identity that stands out in the crowd,
Check out Keva J Swimwear: Instagram | Website

20. Melissa Simone
Melissa Simone is a 1990's inspired swimwear line that takes inspiration from timeless looks captured by 90s icons such as Tyra Banks.
The designs are created to give the wearer a sense of evoked nostalgia.
Check out Melissa Simone: Instagram | Website

21. Ego Swim
Ego Swim was created by a group of friends who wanted to create a "body-positive zone for confident women, go-getters, travel enthusiasts and bossy chicks".
They create trendy designs with vibrant colours that are made to make you feel and look amazing.
Check out Ego Swim: Instagram | Website

22. Nakimuli
If you're looking for unique prints that will make you stand out, then Nakimuli is the brand for you.
Nakimuli creates fashion-forward swimwear and clothing for forward-thinking women. The brand embraces the imagination, individuality and hella fierceness.
Check out Nakimuli: Instagram | Website

23. Curvy Fox
Curvy Fox was created by Christina Howell, who wanted to create a curve embracing brand for fashion-forward women.
Curvy Fox's vibrant and stylish prints seek to empower women to defy society's beauty standards and to embrace their curves with confidence.
Check out Curvy Fox: Instagram | Website

24. Sunday London
Sunday London is a bright and colourful swimwear brand, known for their bold prints and their reversible swimwear.
Fallanne is the founder and designer of Sunday London. All of the prints and designs are created by her, and she also handmakes the swimwear to order.
Check out Sunday London: Instagram | Website

25. Mint Swim
Mint Swim is a USA based brand that was founded by actress and entrepreneur Draya Howard.
Mint Swim was created to make women feel sexy and enhance their curves.
Check out Mint Swim: Instagram | Website


Well, that's it y'all. I hope you were able to find some new Black-owned swimwear brands to check out and purchase from.
I know there are so many more amazing Black-owned swimwear brands, so please do drop your faves in the comments below.
Also, check out my last post where I shared 15 inspiring Black people in the travel industry.

Save for later x