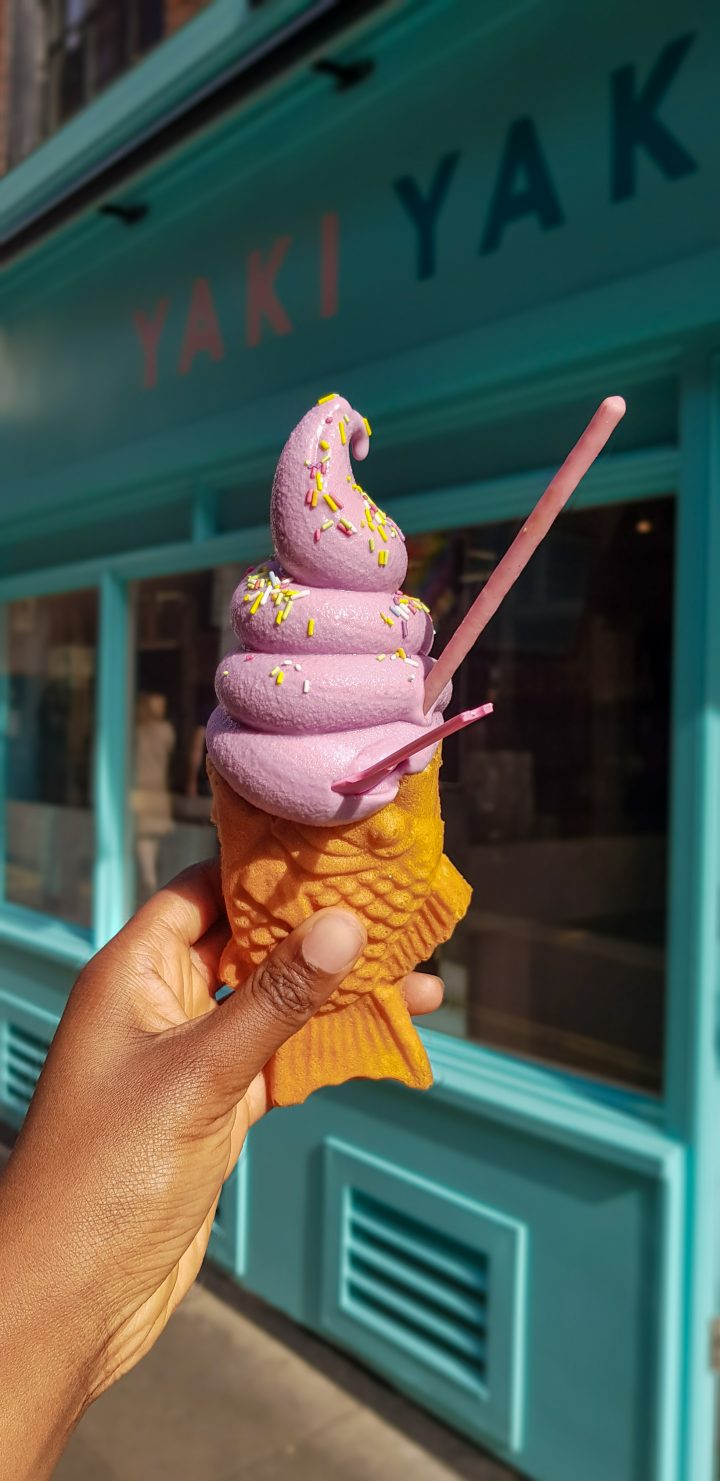 One of the things I love about London is that there's always something new and cool to explore. And what's better to explore than cool dessert places? Nothing. 😍
Here are a few cool desserts to check out while in London:

Yolkin
Macaroons are one of my fave desserts. Add some cool ice cream flavours and toppings and it sounds like a dessert made in heaven.
Location
24 Rupert St, London W1D 6DQ
Price
£4.50+

Find out more
Website | Instagram

The Knot Churros
The Knot Churros is a fun twist on the traditional Spanish churros that we all know and love. You can get your churros with soft-serve ice cream, colourful sprinkles and candy floss.
Location
13 Bute St, Kensington, London SW7 3EY
Price
£3.90 – £7.90

Find out more
Website | Menu | Instagram

Yaki Yaki
Yaki Yaki is a twist on taiyaki, which is a traditional Japenese fish-shaped cake.
Yaki Yaki sell a range of different taiyaki goodies (both sweet and savoury), but they are best known for their ice cream taiyaki. This comes in a taiyaki cone and you can choose from vanilla bean, matcha, ube (purple yam) and coconut flavoured soft-serve ice cream.
Location
4 New Row, London WC2N 4LH
Price
£3.95 – £4.50

Find out more
Website | Menu | Instagram

Whipped London
If you are a huge cheesecake fan, then Whipped needs to be on your list!
Whipped is a new dessert concept with a very unique range of baked, chilled and frozen "whipped" cheesecakes.
Location
160 Drury Lane, London WC2B 5PN
Price
£3 – £8

Find out more
Website | Instagram

Milk Train
Ice cream and candy floss anyone? Certainly, a very unique and delicious way to serve ice cream!
Location
12 Tavistock Street, Convent Garden, London WC2E 7PH
Price
£3.95+

Find out more
Website | Instagram

Soft Serve Society
Soft Serve Society is a fun soft-serve dessert bar with loads of cool flavours and toppings. They also do mini freakshakes.
Locations
Boxpark Shoreditch, Unit 35, 2-10 Bethnal Green Road, London E1 6GY
Victoria Market Hall, 191 Victoria Street, London SW1E 5NE
Price
£5.95 – £6.95

Find out more
Website | Menu | Instagram

Chin Chin Labs
Chin Chin Labs is Europes first liquid nitrogen ice cream parlour.
They have been described as the future of ice cream and it's not hard to see why. They don't have "labs" in their name for nothing, their desserts are like a fun science experiment.
Location
49-50 Camden Lock Place, London NW1 8AF
54 Greek Street, London W1D 3DS
Dinerama, 19 Great Eastern St, London EC2A 3EJ
Price
£4.45+

Find out more
Website | Menu | Instagram

Pan-N-Ice
Rolled ice cream originated in Thailand. It's a different and fun way to switch things up when you want an ice cream. And being able to watch the process of getting your ice cream rolled, really makes the whole experience.
Locations
Westfield Shepherd's Bush, Ariel Way, London W12 7GF
Westfield Stratford, Pan-n-Ice Truck, The Street, London E20 1GL
Selfridges, 400 Oxford Street, London W1A 1AB
Price
£4.85+

Find out more
Website | Menu | Instagram

Mamsons Dirty Ice Cream
Mamasons is Europe's first Filipino ice cream parlour. Their ice cream flavours are both colourful, fun and delicious – yes I'm speaking from experience here 😍
The flavours include ube (purple yam, yes it's sweet!), black buko (coconut with activated charcoal) and milo (if you know, you know 😂).
Locations
91 Kentish Town Road, London NW1 8NY
32 Newport Court, London WC2H 7PQ
Price
£3.50 – £7

Find out more
Website | Menu | Instagram

Wheelcake Island
Wheelcakes are a traditional Taiwanese pancake with a creamy filling. The fillings include akzuri (red bean), matcha, vanilla custard and a mix of vanilla custard and chocolate.
Location
Old Spitalfields Market, 16 Horner Square, London E1 6EW
Price
£3

Find out more
Website | Menu | Instagram

Naked dough
Where my cookie dough fans at?
Naked dough makes edible cookie dough (with no eggs!) and loads of cool toppings.
Locations
Westfield London, Shepherd's Bush, London W12 7GF
Camden Lock, London NW1 8AF
Price
£3.50+

Find out more
Website | Menu | Instagram

Bubblewrap
Egg waffles originated in Hong Kong and Bubblewrap has brought this fun and delicious dessert to China Town in London.
You can completely customise your own bubblewrap, choosing your base, gelato, toppings and sauce.
Location
24 Wardour Street, Chinatown, London W1D 6QJ
Price
£5.99+

Find out more
Website | Menu |Instagram

Maître Choux
Maître Choux is a modern French patisserie with a three Michelin star chef who bakes beautiful and unique eclairs, choux and chouquettes.
Just a little warning! Although the eclairs are beautiful and delicious, they are quite small considering the price.
Locations
15 Harrington Road, London SW7 3ES
60 Dean Street, London W1D 6AW
Fortnum & Mason, 181 Piccadilly, London W1A 1ER
59 King's Road, London SW3 4ND
Price
£5+
Find out more
Website | Menu | Instagram

Dum Dum Donutterie
If you've been wanting to try a cronut (a cross between croissants and doughnuts), then Dum Dum Donutterie is the place for you!
Dum Dum Donutterie has a range of freshly baked (yes baked, not fried!) doughnuts that are significantly lower in fat than other doughnut brands.
Locations
Dum Dum Doughnuts has many branches in London including in Westfield London, Box Park Shoreditch, The o2 Arena and Harrods.
Price
£2+
Find out more
Website | Instagram

Dominique Ansel Bakery
Dominque Ansel Bakery is a beautiful bakery in Victoria. From cronuts to chocolate chip cookie shots, from frozen s'mores to watermelon soft serve in an actual watermelon, there's literally something for everyone.
And although the watermelon soft serve is a bit on the pricey side (£6.50 to take away and £7.80 to eat in), it is so so good!
Location
17-21 Elizabeth Street, Belgravia, London SW1W 9RP
Price
£2 – £9.35
Find out more
Website | Menu | Instagram

Shibuya
Shibuya is a Japanese restaurant in China Town known for its shaved ice desserts. Bingsu is a popular Korean shaved ice dessert with a range of sweet toppings. At Shibuya, the toppings include matcha, mango and Oreos.
Location
110 Shaftesbury Ave, London W1D 5EJ
Price
£5.95
Find out more
Instagram

Cereal Killer Cafe
Cereal Killer Cafe is the first cereal-themed cafe in the UK. They have a very colourful and fun vibe.
Their menu includes cereal milk ice cream, pop tart ice cream sandwiches and cereal milkshakes.
If you're a big cereal lover, then you deffo need to check out the Cereal Killer Cafe!
Location
192a Brick Lane, London E1 6SA
Mezz 2, Camden Stable Market, Chalk farm road, LondonNW1 8AH
Price
£2 – £8.90
Find out more
Website | Menu | Instagram

Tsujiri
If you don't know about matcha, get to know!
Tsujiri is a Japanese tea house known for their matcha products. If you've never tried matcha before, then Tsjujiri is the perfect place to break your matcha virginity.
Their menu includes serve-soft ice cream, shaved ice and Shiratama mochi.
Location
47 Rupert Street, London W1D 7PD, GB
33 Newport Court, London WC2H 7PQ
Price
£4+
Find out more
Website | Instagram

Cutter and Squidge
Cutter and Squidge is London's only 100% all-natural bakery. They are not fans of overly fatty and sugary food, so they've kept the fat and sugar content of the products as low as possible, while still producing amazing and delicious items.
Cutter and Squidge are best known for their biskies, a sandwiched dessert that is a cake/cookie hybrid filled with cream, jams or caramel.
Location
20 Brewer Street, London W1F 0SJ
23 The Royal Exchange, Threadneedle Street, London EC3V 3LP
Price
£3+
Find out more
Website | Instagram

Milk Cool
Milk Cool is London's first rainbow soft-serve ice cream. Their ice cream flavours include black vanilla, mango, pomegranate and matcha.
Location
47 Pembridge Road, London W11 3HG
Price
£3.50 – £9
Find out more
Website | Menu | Instagram

I hope you enjoyed this post. I definitely need to do more London posts.
Let me know in the comments if you've been to any of the places on this list and what you thought of them.
Are there are any dessert places that you think I need to add to the list?
Want to save this list for later? Pin it!